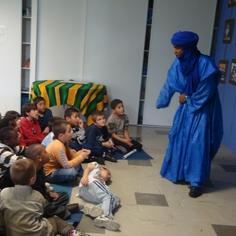 Environment and Biodiversity
Place
Poitiers and District of Vienne, France
Sponsor
Estelle Lasselin
Grant(s)
18 000 € to the Selection Committee at 2009/09/29
Project leader
HumanoPole
"Since my own children attend school, I am particularly impressed by this human and educational project primarily aimed at the young. Apart from any moralizing dialectic, it is designed to raise awareness of the challenges of sustainable development in a highly pragmatic way, through workshops and staged settings."

Estelle Lasselin
50 000 micro-entrepreneurs seconded in 2008 on three continents (Asia, Africa and Latin America), the acquisition of real experience in methods of effective action in the slums from Manila to Port-au-Prince: the international outreach nonprofit Entrepreneurs du Monde has been working for over ten years to help the most destitute families develop small scale businesses.
In analyzing this experience, it derived the firm conviction that the challenges of global development also merited consideration in the North countries.
It has now done this by creating HumanoPole in Poitiers. The aim of this second structure is to promote changes in behavior and to generate civic commitments in the North - and in this case, around Poitiers - by organizing concrete deliberations on the themes of peace, outreach and sustainable development.With youth as a first priority.
Energy footprint and clean home
Starting with a conceptual philosophical attitude, HumanoPole plans to develop very concrete projects.
For the young, it plans to install educational workshops adapted to the various age brackets. It will propose to understand the principle of calculating the ecological footprint to primary schoolchildren, will reflect on the impact of our mode of consumption with junior high students, and will develop a workshop on the "clean home" with high school students, working alongside the engineering students of the École Nationale Supérieure in Poitiers.
But HumanoPole also wants to involve the public at large.Work on the clean home will produce a travelling exhibition: at the end of an itinerary demonstrating the principles of the home, visitors will be asked to compare the respective situations of Burkina Faso and France in the areas of water and electricity consumption and waste production. HumanoPole also wants to design a permanent exhibition close to the Futuroscope.
The Veolia Foundation was approached to help this new nonprofit finance the many educational tools to be designed for the workshops aimed at the students in the district schools. The aim is to reach a target of nearly 5000 persons.
A project manager job will also be created.