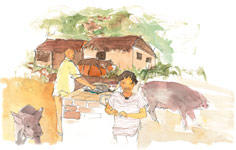 Environment and Biodiversity
Project leader
Heifer International Hong Kong
Place
Minshan Mountains, Sichuan, China
Sponsor
Sophie Lamacq
Grant(s)
80 000 € over two years to the Selection Committee at 2007/10/02
"People are really starting to become aware of environmental conservation in China"

Sophie Lamacq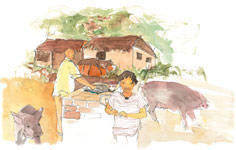 In January 2006, the Veolia foundation was asked a first time to back a project of the NGO-International Hong Kong: to improve the economic and health living conditions of the villages of the Minshan mountains (in the north of the province of Sichuan), while protecting the exceptional environment of this mountain range. It is in fact in the heart of the bamboo forest of this area - classed as a natural reserve and protected as such by the Chinese government - that the last great pandas still thrive in liberty.
To protect the local biodiversity, wood felling is severely regulated within the natural reserve. This measure, which is understandable in environmental terms, has unfortunately raised problems for the inhabitants of these mountains, mainly villagers from Tibet. Living in extremely remote hamlets, without electricity or running water, or even sanitation worthy of the name, they so far only use wood as an energy source, both for heating and cooking.
Equipping another 160 homes
To offer the peasants a new free source of energy without destroying the resources of the forest, Heifer International Hong Kong has therefore planned to equip three hundred homes with biogas supply systems, produced from the droppings of farm animals.
The first grant from the Veolia foundation was used in early 2006 to equip 40 "pilot" families, in order to test the effectiveness of this solution on the spot. The results proved to be absolutely positive: the families consumed 64% less wood on average than previously, and their health conditions will be considerably improved. Even better: studies made in the province of Pingwu established that thanks to the replacement of the rudimentary toilets (provided to complete the project), 90% of the mosquito larvae had disappeared! Besides, the production of greenhouse effect gases also decreased thanks to the reduction in wood consumption.
Based on these advances, Heifer International Hong Kong is therefore continuing the installation of biogas in the mountain villages. Another 160 homes will be equipped in the coming two years. Like the previous montagnards, the new families selected will receive a biogas tank, an adapted cooking range, a heat saving wood burning stove, and a pressure cooker. They will also receive four pigs, the optimized refitting of their pigpens, and the installation of toilets offering satisfactory hygiene.