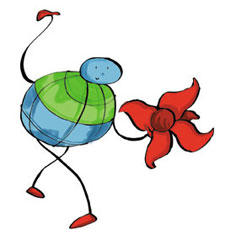 Environment and Biodiversity
Project leader
Coup de Chapeau de Victor
Place
France
Sponsor
Anne Gry-Monteil and Valérie Lefèvre
Grant
1,000 € to the Selection Committee at 2004/05/26
In 2002, Veolia launched a public awareness campaign concerning environmental protection in partnership with ten or so regional daily newspapers. The initiative was centred on a competition called "Le coup de chapeau de Victor", with Victor, the Veolia mascot, rewarding and encouraging initiatives from all those wishing to take concrete measures to protect and enhance the environment (associations, school groups and even private individuals). A jury, made up of regional representatives of Veolia and the newspaper concerned, chooses projects which do most to protect the environment from a list of entrants. What makes this initiative different is that is gives those working to save the environment access to the columns of major regional newspapers thus enabling them to get the message across to the general public and ensure wider involvement.
Since its creation in 2002, "Le coup de chapeau de Victor" has had 148 prize-winners. And since its creation in 2004, the Veolia foundation has supplied the financial rewards attributed to the winners, at the rate of 1000 euros per winning initiative.
The winning initiatives include, for instance: cleaning up riverbanks or ports, protection of fauna and flora on land and in the sea, improvement of local areas, creation of teaching documentation, educational theatre productions, etc.
In 2008, for the ongoing "coups de chapeau de Victor", but with a fresh approach, the "Veolia - le Petit Prince" prize was created. Thanks to a campaign of press insertions in the regional dailies, this prize is designed to highlight the best projects and initiatives supported by the Veolia foundation.