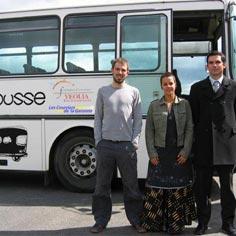 Social and Employment
Place
Burkina Faso, Burkina Faso
Sponsor
Germain Sauvetre
Grant(s)
€10,000 to the Selection Committee at 2005/04/05
  Project leader Biblio'Brousse
«  This project seems to meet a strong demand from the Burkina Faso population for their main goals of keeping the project going and training people to work on their own. The Biblio'Brousse is designed to last quite a few years. It will create valuable jobs. »

Germain Sauvetre
In Burkina Faso, as in much of the rest of the countries of the Sahel region, the roads are not in very good shape. As for any "information highways", they are still pretty often in the conception stage. So to allow as many high school students as possible from the rural villages to come and get a start on information technology equipment, the Biblio'Brousse Association designed a bus of the same name, whose destination would be to meet people where they are.After leaving in September 2005, a bus stopped at Dori, Gaoua and Banfora.
 
Training the trainers of the future
The Biblio'Brousse, a multimedia cultural bus, on the road in September 2005.
This highly equipped bus — with ten computers programmed with office software and image processing, two cinema cameras and three digital still cameras —also has a library with about a hundred books and a team of four trainers, a coordinator and a librarian.
During each phase of four months in a given town, high school students come and discover, free of charge, the tools at their disposal in order to develop projects together with their school or local cultural and social associations. All the work they do is shown during presentation meetings. In addition, a website designed in 2005 was made available to the high school students, showing their work — and their desire to communicate with the whole world.Russians not attending school also enjoy access to biblio'brousse during paid weekend classes.So when the bus stopped at Dori, the team welcomed 260 registered high school students, 54 paying customers and 460 persons to the library
To ensure that this project lasts, the first four trainers trained Burkina Faso inhabitants who talk over from them. Lastly, Biblio'Brousse plans to set up Internet cafés and cross the borders to carry out the same mission in Senegal and Mali.
With a grant of €10,000, the Veolia foundation participated in outfitting the inside of the bus, which was itself a gift from Les Courriers de la Garonne, a subsidiary of Connex.