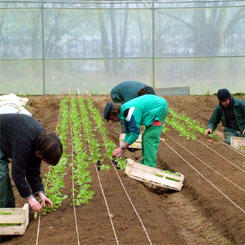 Social and Employment
Place
Marcoussis, France
Sponsor
Alain Vidal
Grant(s)
€12,000 to the Selection Committee at 2011/10/20
Project leader
"Having been personally engaged since 2007 in distributing organic fruit and vegetable baskets in my own company, Anjou Recherche, I'm naturally interested in Potagers de Marcoussis. Promoting short distribution circuits and organic farming, while offering jobs to a public far removed from the job market: now here's a project that I really like. "

Alain Vidal
"You need vegetables, they need work, together, let us cultivate solidarity": this is the leitmotiv of Potagers de Marcoussis, a back-to-work agency for producing organic vegetables, members of the Jardins de Cocagne Network. Created ten years ago, the nonprofit has been run since 2007 by François Pastre, a young engineer who has given the agency a new impetus. So far, it has hired 57 people under a unique back-to-work contract and offered them a training plan featuring a social aspect (access to rights and medical care, budget management, housing formalities, etc.), a professional aspect (technique in finding a job, professional project, pruning fruit trees, driving machines, etc.) and a personal aspect (self-image, access to culture, cinema workshop) which are all relevant. The nonprofit has also acquired new farming land that has enabled it to increase the rotations in blocking plans, to introduce green fertilizer and to limit soil depletion. While consolidating its actions and its team, it has gained a strong reputation with its partners: the Marcoussis Town Hall, the Essonne District, the Île-de-France Region, the State Services... and its 330 members, who buy the organic baskets.
Produce better, to help people in difficulty even more
The nonprofit is perpetuating its activity thanks to new, appropriate and efficient equipment. It has accordingly acquired seven hectares of land for organic truck farming, for which it is providing irrigation. The planned installation will involve the use of a well, the startup of a rainwater recovery tank and a bypass from a local stream. To extend these sources, a buried portion of the system supplies water to curved outlets at ten meter intervals. The rest of the installation will be built on the surface, via 50 meter spray booms carrying precision sprinklers at five meter intervals. This system is designed to irrigate the crops selectively and thereby preserve the resource.
Les Potagers de Marcoussis also have a solid-built ecological farm, using technologies designed to cut energy consumption and fit properly into its environment (energy recovery, heat transfer, eco materials), also allowing the creation of a cannery (Île-de-France has only one cannery today) as well as a showcase for eco construction and environmental values. The lease by the Marcoussis Town Hall of a locale in the city centre dedicated to the direct sale of the produce also favors the distribution of the organic baskets.
The overall project, backed by the Chamber of Commerce and Industry of the Essonne district, recently obtained the PM'up logo granted by the Île-de-France Regional Council, which also gave it co-financing, alongside the General Council of the Essonne. The Veolia Foundation is participating in the purchase of the irrigation system for the new plot. All crops combined, the project is aiming at another six jobs.
---
OTHER PROJET SUPPORTED
Les Potagers de Marcoussis: Installation of an efficient irrigation system for an organic truck garden with persons in job placement.
Domain: Social and employment
Country: France
Endowment: 2008/01/29
En savoir plus sur ce projet