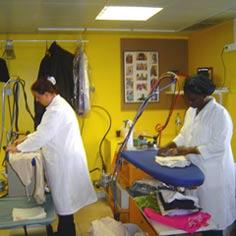 Social and Employment
Place
Aulnay-sous-Bois, Seine-Saint-Denis, France
Sponsor
Jean-Philippe Soudes
Grant(s)
15 000 € to the Selection Committee at 2007/05/22

  Project leader Saddaka
«  I met the members of the Saddaka association via the sports activities in which the Veolia Eau Sports Union also participates. This gave me the opportunity to appreciate the quality of their staff. The laundry created by the association employs four women and one man daily. The development of the structure, with the purchase of an appropriate vehicle, will help to create two new integration jobs per year for persons from the neighborhood. It is an effective contribution to the professional integration of truly disadvantaged persons. The northern neighborhoods of Aulnay-sous-Bois are in fact suffering from a very high rate of unemployment and illiteracy." . »

Jean-Philippe Soudes
For the last 15 years, the Saddaka association has been developing a network of activities in Aulnay-sous-Bois: sports center, hairdressing salon, driving school, building finishing operations, catering service, café (no alcohol) and, since 1995, a laundry which accounts for 14% of its total income. Assisted by some 20 volunteers, the association employs 30 persons. The washing and ironing activity has permitted the creation of five reintegration jobs accompanied by a staff teacher. In 12 years, the laundry has become professional: on the 60 m2 of floor space, three large capacity washing machines and a drier-ironing machine have been installed. The next step? To buy a utility vehicle for collection and deliveries to serve new customers.
More customers to secure permanent work
Initially intended for the population of the neighborhood, the Saddaka laundry has turned to another type of clientele. The place naturally remains a meeting point, a venue for reception and guidance, but the laundry now also works for L'Oréal, Vadier, etc. And the association's customer list even includes many Paris hotels.
By expanding services to companies, the association wants to make this clientele permanent, so that the income generated will help to offer attractive rates to the population of the neighborhoods often facing financial difficulties. To expand this type of service, Saddaka has to acquire a utility vehicle adapted to the trolleys used in laundries. The Veolia foundation is financing the purchase of this van alongside the Danielle-Mitterrand Foundation. This grant will give the Saddaka association means to become professional and to secure new clients.