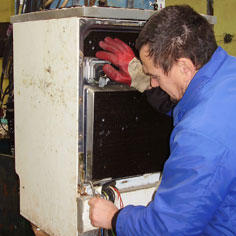 Social and Employment
Place
Loire-Atlantique, France
Sponsor
Benjamin Gellusseau
Grant
25,000 € to the Selection Committee at 2007/12/04
Project leader
TroCantons
"Since they both operate in the area of waste collection, reconditioning and recycling centers, the Trocantons association and the local regional agency of Veolia Propreté have developed very close links. The association has also initiated the creation of the Réseau des écocycleries, a pool of local integration structures."
Benjamin Gellusseau
In 13 years, the Trocantons team has succeeded in making its operations permanent: approved as a workforce development company, it employs twenty persons, eleven of them under an integration program. The community of communes of the Pays d'Ancenis, (twenty-nine communes in the Loire-Atlantique district) has therefore entrusted Trocantons with the treatment of their bulky household wastes and derivatives. The association, which has diversified into many social activities focusing on the most destitute persons, today needs to move on to the next step.
Developing activity towards the school groups and clients
Since it signed an agreement with the French National Education Ministry, Trocantons receives students, at the request of public and private schools, to enhance their awareness in matters associated with waste management and, at a broader level, in sustainable development through experiments. To provide them with the best possible accommodations, the association plans to prepare a room that will also be accessible to the public at large during open house receptions.
Another of the association's ambitions is to modernize its working premises to improve the working conditions of its employees and expand its activities. In this way, Trocantons will meet the expectations of its clients and comply with the new regulations governing waste management. In concrete terms, two workshops will be inaugurated: the first dedicated to textile and furniture recycling (stripping the items to sell the hardware and fabric separately), and the second devoted to the processing and sale of recycled objects. These development projects will go hand in hand with the creation of new sanitary blocks and the improvement of the heating and safety system.
Alongside the Pays-de-Loire region, the Crédit Agricole Bank and the Fondation de France, the Veolia Foundation is financing part of these premises refitting operations.