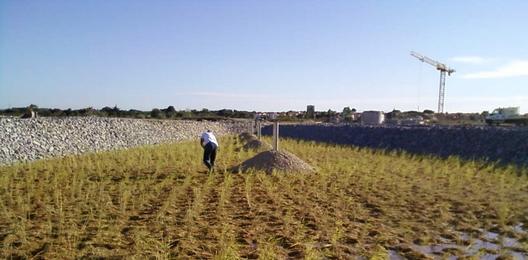 Social and Employment
Place
St Just / St Rambert, France
Sponsor
Vincent Nguyen Ba
Grant(s)
8 000 € to the Selection Committee at 2012/06/05
Project leader
"This project perfectly matches my personal and professional convictions, in other words, to improve the energy performance of the buildings to reduce consumption and greenhouse gas emissions. I have myself advised the nonprofit in the installation of thermal solar panels which will help produce a large part of the domestic hot water free of charge. I'm confident in the success of this project: it will help upgrade the social installations of the company to standard and will boost the reception capacity of the back-to-work employees with the creation of another three jobs within two years, the building will be released to the building professionals on the Loire Forez territory and will serve as an example for future generations."

Vincent Nguyen Ba
Located in the heart of the Forez plain at St-Just-St-Rambert, 17 km north of St Etienne, Oasure is a workforce development agency in charge of receiving and counseling persons outside mainstream society. On a rural territory, marked by strong farming activity, it hires 11 employees (6 minimum wage and 5 full-time) to produce, sell, install and maintain reeds intended for the natural purification of wastewater from the neighboring municipalities. However, the present premises of the nonprofit, which are obsolete and rundown, do not offer the back-to-work employees a worthy reception space for their integration. The nonprofit therefore wants to improve the reception conditions of the reed growers as well as other publics, by constructing a 200 square meter technical and educational building. The new building, eco-exemplary for the use of the most environment-friendly building techniques (straw, plaster, earth, brick, wood, hemp concrete), offers light and airy surfaces and volumes, technical installations allowing for substantial energy conservation, ergonomic furniture, and is ecologically and sustainably integrated in the new home for the reed growers.
Environment-friendly building techniques
Oasure wanted to broaden the partnerships around this project to the professional building sector. Thus the Confédération de l'artisanat et des petites entreprises du bâtiment (CAPEB) Loire and the French Building Federation (FFB) provide advice and expertise. Students from the engineering schools of ENISE, the school of Mines and the advanced business school of St Etienne, are also getting involved in the project, and the wood center of the Montbrison Maison familiale et rurale and the Montravel horticultural school are actively participating in the design and installation of the building and the landscape area. And in order to professionalize the reed growers who want to join the building trades, they will be included in the construction of the building.
The Veolia Foundation is participating in this interesting eco-building project, particularly for its bioclimatic aspect, in line with the grant provided in 2010 to the parent nonprofit Les jardins d'Oasis.
 
---
OTHER PROJECT SUPPORTED
Jardin d'Oasis: Construction of an exemplary ecological building for an association developing back-to-work projects via organic truck farming.
Domain: Environment and Biodiversity
Country: France
Endowment: 2010/01/26
> Learn more about this project