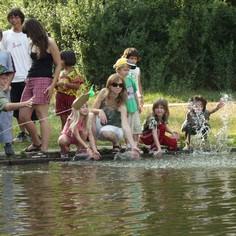 Environment and Biodiversity
Place
Slovakia, Slovakia
Sponsor
Eva Kucerova
Grant(s)
€15,000 to the Selection Committee at 2010/06/22
Project leader
To set off on a short mountain holiday and discover a hitherto unknown environment: a dream coming true this summer for 60 Slovak children, aged 8 to 14, thanks to the nonprofit "Les Enfants du Danube".
Since 2002, this Paris based association has developed many projects to improve the lives of the abandoned, maltreated, sick or handicapped children of Slovakia. It has organized its actions along four guidelines: promoting the cultural awakening of the children; supporting extra-school activities; learning foreign languages; and organizing holidays and awareness raising in the vital challenges of sustainable development. Hence the project backed this summer by the Veolia Foundation.
A fun way to understand sustainable development
Deep in the Tatry National Park, in the mountains of Slovakia, the children from disadvantaged groups (especially Roma) will therefore enjoy some splendid holidays and get initiated into a few essential challenges of sustainable development: nature conservation, energy, waste, etc. They will enjoy the supervision of experts of the national park plus the participation of local craftsmen. The awareness raising workshops will in fact be organized around games developed by these artisans, who will thus, for example, provide the expertise of "yesteryear" to teach the children how to fight waste today.
During the holiday week, each day will be devoted to a specific topic: renewable energies, respect for the environment, knowledge of the local fauna and flora, learning about source separation and recycling, cleaning up the forest and the environment of the lake where the hostel is located, and initiation into traditional ways of life.
The children will also have the opportunity to create their own kitchen garden.
The educational supports of the workshops will be solidly built for repeated use during other identical future holidays. Les Enfants du Danube, convinced of the importance of this type of action, certainly doesn't intend to stop halfway.