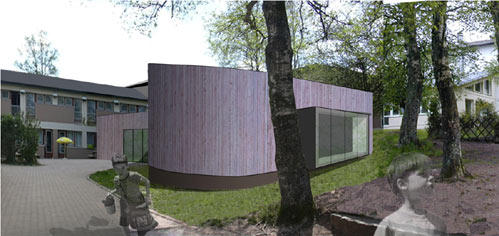 Environment and Biodiversity
Place
Xonrupt-Longemer, France
Sponsor
Pierre-Yves Fénart
Grant(s)
120 000 € to the Selection Committee at 2007/10/02
Project leader
FOL de Moselle
"The Les Jonquilles center has set a fine example for training eco-responsible citizens, aware of their environmental impact and concerned to preserve their living environment."

Pierre-Yves Fénart
Deep in the valley of the lakes, in the Vosges mountains, the Les Jonquilles center at Xonrupt Longemer receives many students for discovery classes and educational school trips. The activities proposed are linked to nature and its investigation: the pupils participate in naturalist workshops and go on mountain outings to examine the fauna and the flora, supervised by a "Nature and Environment" leader.
In summer and winter alike, the accommodation capacity of the center is 230 beds, nearly 65 bedrooms. Yet, while the building has many activity rooms, it lacks a big one - the present room, dedicated to promoting environmental awareness and conservation, can only accommodate 15 persons. The Fédération des Œuvres Laïques de Moselle therefore asked an architect to devise a solution.
Planted roofing and geothermal heating
The architect in charge proposed to build a 180 square meter (1800 square feet) ecological building equipped with a planted roof, a rainwater collection system, photovoltaic panels and geothermal heating. An excellent example of renewable energy which could be exploited by the organizers of the center. Adaptable to the various activities thanks to a convertible wooden floor and modulable walls, the indoor facilities will be built by a Centre d'Aide par le Travail.
The new center, accessible to handicapped persons, will boost the accommodation capacity during the educational Wednesdays and will serve as an exhibition and lecture room for the population of the area.
Outside the building, four areas will be designed by two specialists in the plastic arts, along a river. Several themes will be illustrated there: water management, energy generation by a water wheel, the "border" that a river can represent, etc.
The contribution of the Veolia Foundation will be used to arrange the outdoor spaces, partially equip two bedrooms for handicapped persons, and provide the exhibition materials for the showroom. It will also contribute to financing the planting of the roof and the installation of photovoltaic panels.