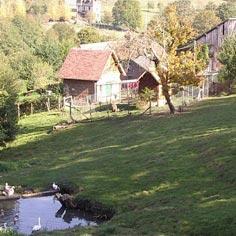 Environment and Biodiversity
Place
Livarot, Calvados., France
Sponsor
Patrick Lecesne
Grant(s)
€25,000 to the Selection Committee at 2005/04/05
  Project leader La Ferme d'antan
«  The project has the support of politicians, some government departments and local environmental protection associations. It concerns biodiversity and education linked to environmental protection; and it has beneficial effects on employment. I am sure it will be a great success. »

Patrick Lecesne
The Farm of Yesteryear Association ("La Ferme d'Antan") was established in 2000 at a restored old farm on 17.5 hectares in Livarot, in the heart of the Auge country, famous for its gentle pace of life in the shade of apple trees and for its gastronomy. The Association's purpose is to provide a survey of, and protection for, the local flora and fauna, to raise the public's awareness of the environment and renewable energy sources and to operate the property using traditional farming methods.
 
2,000 visitors a year
In the heart of the Auge country, The Farm of Yesteryear offers a broad range of activities for young and old.
The Farm of Yesteryear has been authorised as an "Educational Association Supplemental to Public Schooling" and as a "Youth and Public Education Association". In five years it has succeeded in developing a whole range of educational tools that it uses for presentations in schools or when receiving school groups on day trips. The Association is thus in contact with 2,000 people every year, mainly schoolchildren.
Still, the Association's management, like that of the Departmental Directorate for Youth and Sport, concluded that the farm still lacked lodging capacity to accommodate groups during open-air educational stays of several days' duration.
Consequently, The Farm of Yesteryear applied to several funding partners, including the Veolia foundation. The VE foundation decided to provide a grant of €25,000, which will contribute to building a tented lodging area for twenty children.