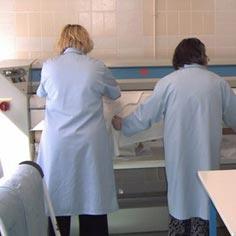 Social and Employment
Place
Sainte-Ménéhould, Marne department of France., France
Sponsor
Gabriel Wagler
Grant(s)
€25,000 to the Selection Committee at 2005/04/05
  Project leader Elan Argonnais
«  The conversion of the dry cleaner through the Aqualavage concept on the main street of the town centre of Sainte-Ménéhould is justified by the desire to integrate handicapped adults into the life of the community. »

Gabriel Wagler
In Argonne, in the southern part of the department of the Marne, the Élan Argonnais Association has been working with handicapped people for 25 years. Amongst other facilities for adults or children, it manages a Centre for Assistance through Work which can accommodate up to 96 mentally deficient individuals. Several job descriptions are available, including a laundry shop established in 1982, which provides work for 14 handicapped adults, overseen by three supervisors.
 
Four new jobs and highly ecological cleaning
The laundry shop, established in 1982, offers jobs to fourteen handicapped adults.
The Centre is always looking for ways to increase staff opportunities and decided to take up an offer from the manageress of a dry cleaner located in the town centre of Sainte-Ménéhould. She wasn't in fact in a financial position to bring her facilities up to new standards and was going to close down her business. Since she had worked for ten years with the Centre, she proposed that it should take over her premises and customers.
The Centre's leaders themselves wanted to install a new ecological laundry process, "Aqualavage", based on a damp wash that consumes little water and energy and only uses biodegradable products, contrary to traditional dry cleaning.
The total refurbishment of the former dry cleaner and the installation of the Aqualavage process correspond to an overall investment of €75,000. But once this project is up and running it will make it possible to hire three additional handicapped people and a supervisor, who will quite surely be the lady who owned the dry cleaner, whilst developing an economical and ecological business. The Veolia foundation has assisted this outcome with a grant of €25,000.