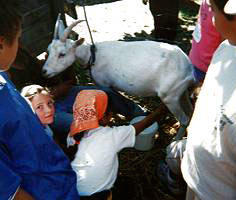 Environment and Biodiversity
Place
Environs of Toulon, France
Sponsor
Florence Dartiguenave
Grant(s)
15,000 € to the Selection Committee at 2008/01/29   Project leader La ferme de Beaugensiers
"The farm of Beaugenseirs is an educational farm fully integrated in the local social life, particularly by welcoming handicapped publics and through its environmental awareness approach. The eco-hostel project complements its educational activities."

Florence Dartiguenave
Some twenty kilometers from Toulon, the farm of Beaugensiers stands in a large two-hectare orchard inhabited by a hundred animals, including cows, sheep, donkeys, pigs, turkeys, etc.
Seven employees of the association La Ferme de Beaugensiers run various workshops for educational purposes on the topics of environmental conservation, sustainable development and food.The visitors can learn to make bread or goat cheese, to perform source-separation and to recycle, or even to conserve water.
These workshops are extremely successful.The association welcomes more than 15,000 visitors every year, including children and handicapped adults, in connection with school outings and weekly leisure trips.
On Sundays, the farm has an "open house": 4,000 persons go there every year.Alongside the social organizations, the farm also welcomes young delinquents reintegrating in society.
Eco-sleeping at the farm
To supplement its educational activity, make it profitable and permanent, the association created two eco-hostels in March 2007 to accommodate groups for several days.
One of them is entirely designed for handicapped persons, thereby meeting the needs of this public (about 2,700 visitors each year) who cannot find a structure for ecological and educational trips.The new services of the eco-hostels will help earn more income as well as expand sales of the food produce turned out on the spot.Two jobs have been created to welcome groups for board and room.
To complete the ecological installation, the farm wants to install a central heating system burning wood and recycled oil.
The Veolia foundation was approached to participate in the acquisition of this equipment.