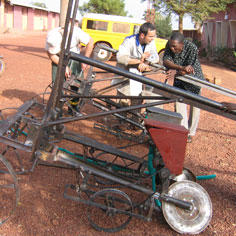 Humanitarian and Development
Place
Sikasso region, Mali
Sponsor
Maryannick Libreau
Grant(s)
€17,000 to the Selection Committee at 2005/04/05
  Project leader AFDI de Touraine (Agriculteurs français et développement international)
« This is a pretty well perfect model of a development project, with good technical and relationship foundations in France and in Mali. »

Maryannick Libreau
In Mali, the Sikasso region receives a major portion of its revenues from cotton growing. To be as competitive as possible in world markets, the Sycov, the local syndicate of cotton and foodstuffs producers who represent 90% of the sector, is always looking for ways to increase its members' productivity.
Just a bit further north, in France, the Afdi Association (French Farmers for International Development) was established in 1974 by four large agricultural organisations and is present throughout the regions and departments of France. Afdi keeps French farmers informed about the needs of their counterparts in developing countries and sets up, for certain assignments, specific partnerships. That is how Afdi in the Tours area and the Sycov decided to work together to improve the agricultural techniques of the Malian farmers.
Seeders, but also solar ovens
With the help of several other organisations, they perfected a seeding machine drawn by animals that made direct seeding possible under a cover of vegetation without prior earth-breaking work. A prototype of this machine was tested by farmers in the Tours area and presented to the Malian Institute for the Rural Economy. The tests were conclusive and twenty seeding machines will be manufactured by the Sikasso Centre for Adult Training, while French farmers who know this system will help their Malian counterparts get started.
The €17,000 grant by the Veolia foundation will be used to manufacture the seeding machines and 24 solar ovens for the women of the villages involved. In this way, they will be able to cook their food using a process that respects the environment and does not require the burning of wood.