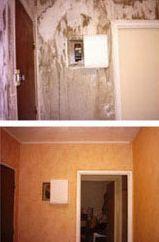 Social and Employment
Project leader
Compagnons Bâtisseurs de Bretagne
Place
Ille-et-Vilaine, Morbihan et Côtes d'Armor (western France), France
Sponsor
Bernard Falgas
Grant(s)
20000 € to the Selection Committee at 2007/10/02
Too many poor families let their homes deteriorate through the lack of resources. The Compagnons Bâtisseurs de Bretagne are betting that by encouraging this disadvantaged population to restore their homes, they will simultaneously help them to return to the path of social and professional integration. Buoyed by this hope, they have developed home self-refurbishing projects for nearly 40 years throughout western France.
Discovering one's neighbors
On each site, the persons aided are assisted by eight integration contract employees and, as the work proceeds, acquire useful training for the future. Besides, they are encouraged to exchange services between neighbors. For example: a neighbor lends a helping hand on a subject that he knows well (plumbing, electricity, etc.) and in return, he obtains a service such as babysitting or help with the homework.
The eight new projects benefit 20 tenant families in social housing and 12 owner families in rural areas.
A happier life in the neighborhoods with less isolation for the families: this is the objective of the Veolia foundation, which, after having already backed a similar project in Toulouse in December 2006, is now financing the projects of the Compagnons Bâtisseurs de Bretagne.