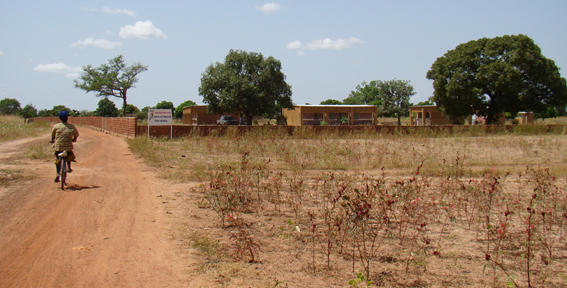 Humanitarian and Development
Place
Kokologho, Burkina Faso
Sponsor
Patrice Hut
Grant(s)
8 000 € to the Selection Committee at 2012/06/05
Project leader
"This responsible, committed and outreach project naturally follows on the Teed Beoogo education project, which received a grant from the Foundation in January 2009, and will considerably improve the working and living conditions of the users of the center, as well as the surrounding villagers."

Patrice Hut
Solidly established in West Africa (since 1999), the nonprofit Voyages Séjours Découvertes (VSD) proposes literacy, support for the schools and training centers, creation of village cooperatives, construction of market garden wells, and the setting up of microcredit. In 2009, in Burkina Faso, the nonprofit decided to support the creation of Teed Beoogo, an agriculture training center in the commune of Kokologho, 45 km from Ouagadougou, which will offer free agro-sylvo-pastoral training, in three years, to disadvantaged youths of the region: at the end of the course, thanks to the agricultural skills acquired, these youths will enjoy the possibility of remaining in their village, earning their living and then starting a family. The project includes many phases, independent from one another, all tailored to the real needs of the population and implemented as soon as the funding is received.
Free ecological agro-sylvo-pastoral training
So far, VSD has built the basic structure (dormitory, housing for teachers, classroom, library, restrooms, storeroom, kitchen, mess hall, borehole, hen house, sheepfold, stable) and operated the center for the third school year. Two classes are in training, making a total of 40 students, fed and accommodated free for the year (boarding school for the girls). In the year 2012, proclaimed by the UN the International Year for Sustainable Energy for All, the Teed Beoogo center wants to install a multifunction complex equipped with a motor running on jatropha oil, a decorticator, a mill and a generator, to meet the needs of the villagers while simultaneously supplying energy for the electrification of the center and the water supply. It also wants to erect a building to accommodate the various workshops needed to perpetuate the structure.
---
OTHER PROJECT SUPPORTED
Voyages séjours Découverte (VSD) : Creation of a socio-educational structure to welcome and accommodate the street children of Kokologho.
Domain: Social and employment
Country: Burkina Faso
Endowment: 2009/01/27
> Learn more about this project