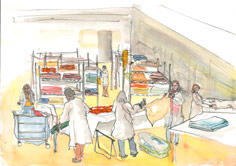 Social and Employment
Place
France
Sponsor
Alain Bunisset
Grant
40.000 € to the Selection Committee at 2006/05/23
Project leader
Association des Centres Pierre et Louise Dumonteil
"This ingenious upgrade project has been widely discussed with the staff and the handicapped employees to make sure that they are involved in and the beneficiaries of the improvements to their workplace facilities."
Alain Bunisset
The Association des Centres Pierre et Louise Dumonteil (Association of Pierre and Louise Dumonteil Centers) focuses on providing work for the mentally handicapped. In Paris, it manages two CATs* and a day employment center. In 1976, it opened a laundry at the Père-Lachaise CAT. Since then, its activity has steadily increased: the laundry currently employs forty handicapped people supervised by four professionals, for a throughput of 900 kg of laundry a day.
Upgrade facilities and lighten the workload
As a result, production difficulties have been worsening over the past months: the equipment is outdated, many workstations are very tiring because they require operators to remain standing and the work organization needs to be thoroughly reviewed to eradicate certain unnecessary aspects. All this needs to be done against a backdrop of steadily increasing business.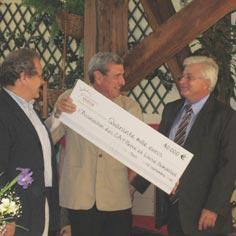 For these reasons, the Centres Pierre et Louise Dumonteil have decided to completely review the working methods and equipment they use: computerize laundry management from delivery to dispatch, create seated workstations, replace machines that are no longer compliant, and upgrade the ventilation-extraction and lighting systems to bring them into line with current standards. The total budget required is around 130,000 euros.
The Veolia foundation, made aware of this laundry's needs by an employee in charge of the Disability Plan in Veolia Eau Ile-de-France's Human Relations Department, has opted to help finance the work required with a 40,000-euro grant. Also, it is planning to subcontract the maintenance of Veolia Water's Parisian personnel's work clothes to the CAT.
---
* CAT : Centre d'aide par le travail (Center for Aid through Work.)