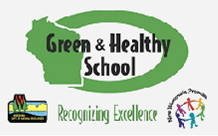 Environment and Biodiversity
Place
Milwaukee, United States
Sponsor
Annette Gifford
Grant(s)
12,000 € to the Selection Committee at 2008/01/29
Project leader
Hawley Parents Organization
"This school is incredible despite its lack of money. The disadvantaged children there express their wish to learn and their teachers give them the utmost. They make a point of getting the most of the little they have."

Annette Gifford
In the United States, parents of the students of the Hawley Environmental School of the city of Milwaukee in Wisconsin have created their association that bears their name, the Hawley Parents Organization.
Its aim? To make up for the lack of financial resources of the school.
Located in a very poor neighborhood, the school was selected to familiarize its pupils with environmental and sustainable development issues. It is also part of the "Green & Healthy School" world network where the teaching is focused on the environment and is designed to establish strong bonds between schools located on all the continents. The pupils of the various countries can thus exchange ideas and discuss their projects, as well as their studies on biodiversity, monitor expeditions in the Antarctic, and even the investigation of climatic phenomena.
Computers as windows on the world
However, lacking technical resources, the school has a hard time communicating with the other educational establishments. Its IT equipment is too obsolete to enable its pupils to pool their reports. The parent-teachers association therefore decided to equip the science laboratory with IT hardware. The new computers should enable the 345 pupils aged from 6 to 15 years to pursue their learning activities. Besides this aspect, the hardware will offer its children an excellent window opening onto the world.
The Veolia foundation is participating in the acquisition of twelve computers, the parents will deal with the purchase of another twelve and the installation of the Wi-Fi connection system.