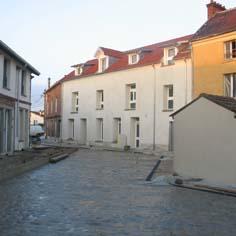 Environment and Biodiversity
Place
Cormeilles-en-Parisis, France
Sponsor
Sylvain Leguet
Grant(s)
20 000 € to the Selection Committee at 2005/12/06

  Project leader IDL 95
« 
The admission procedure will allow for a mixed population, in terms of family composition, age, nationality and social status. The residents will be associated with the operation and running of the residence. This offers an additional guarantee, ensuring the permanence of this project which combined friendship and solidarity.
 »

Sylvain Leguet
For the last 20 years, IDN 95 has made the "right to housing for all" its warhorse. The association's sixteen employees have launched many initiatives to facilitate the access of the most disadvantaged populations to housing. They carry out missions aimed at housing to integrate persons who are marginalized or in very precarious situations. Taking advantage of the provisions set by the interministerial circular of December 10, 2002, the association plans to manage housing of a novel type.
An intermediate habitat
A compromise between the individual home and social accommodation, the Relay Home offers a novel alternative. This concept resembles that of the old family boarding houses: the same center contains private housing, multifamily areas and a diversified service offer.
Located in the commune of Cormeilles-en-Parisis (in the Val d'Oise district), the residence Les Coquelicots (poppies) will have 23 housing units (studio apartments, F2, F3) which are partially furnished. There will also be indoor collective spaces and a garden, a courtyard and technical rooms. The refurbishing project was initiated in early 2005. In the first half of 2006, IDL took over the management, handing the running and maintenance to a couple of hosts hired for the purpose.
To acquire the furniture for the housing units and adequately equip the common areas, the Veolia foundation has joined the various project co-lenders (regional council of Ile de France, general council, CAF of the Vand'Oise, Abbé Pierre Foundation) by granting 20,000 euros to Les Coquelicots.So that in this genuine living area, human, durable and warm, everyone finds the time, the means and the desire to (re)construct a personal project.