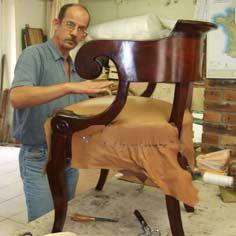 Social and Employment
Project leader
Place
Val-d'Oise, France
Sponsor
Jean-Pierre Combe
Grant(s)
40,000 € to the Selection Committee at 2006/10/03
"I believe that the secret of the Béthel Center's exemplary success is its capacity to combine creative and rewarding work with a very supportive supervisory framework."
Jean-Pierre Combe
Once former alcoholics or drug addicts are medically clean, they are faced with another challenge: moving back into work and society. The success of this post-cure period is crucial if they are to avoid returning to their former practices, but it is always a tricky stage. The couple who set up Béthel some 30 years ago were convinced that former addicts could get through this difficult period by immersing themselves in a demanding professional activity.
The Bethel center in Val-d'Oise can cater for up to 15 people. It offers its residents training in fine cabinet-making, restoration of antique furniture and furnishing tapestries. The activities are supervised by highly skilled practitioners, some of them members of the prestigious "Compagnons du Devoir" (skilled workers guild). Successful completion of the two-year course is rewarded by a Chamber of Trades diploma.
More than a job: a passion!
As well as transmitting know-how, the program aims to develop the imagination and help each trainee discover his or her creative potential. Life at the center is organized around work, but the program also includes, sport, "family" meals and classes in French, mathematics and the history of art – the last subject is further supplemented by cultural outings to develop the trainees' eye for artistic creation.
Béthel, which needs help to finance renovation work in its premises, can point to some outstanding successes: some of its former trainees have now set up as independent craftsmen, earning a living and enjoying their rightful place in society.