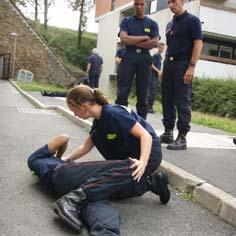 Social and Employment
Project leader
ASASPP (Sports and Artistic Association of the Firefighters of Paris)
Place
75, 92, 93, 94 (Paris and environs), France
Sponsor
Yves Lamprier - Dalkia
Grant(s)
30 000 € to the Selection Committee at 2007/04/03
"As a former Paris firefighter myself, I can gauge the originality of the project and its importance for young people. It has many facets: social integration, free professional training, fire prevention messages, general knowledge, job opportunities, voluntary work, the associative world, etc. These assets make it a genuine civic initiative and a formidable springboard to professional life."
Yves Lamprier
In the tense urban areas of Paris and the three outlying districts, ASASPP has been proposing a novel initiative since 2004-2005.
The idea is to exploit the highly positive image the firefighters enjoy among youths to initiate them in their techniques and ethic.
This project, fully backed by the Paris Fire Department, aims to propagate the civic spirit and is entirely integrated in the national effort to facilitate youth integration.
In this respect, it enjoys an excellent rating from the Commission for the Promotion of Equal Opportunity and Citizenship (COPEC), set up by the French government in 2004.
In concrete terms, adolescents from 14 to 16 years of age can enter a highly progressive career trajectory, in the context of associative activities. The curriculum ultimately gives them the virtual certainty of finding jobs in the fire department or similar organizations. The system corresponds to a total of 400 hours of technical, civic, physical and moral training, staggered over a minimum program of 60 days completed over two years. For them, the objective is to climb several levels, recognized by national certificates, and particularly that of "Young firefighter", a diploma defined by an Interior Ministry Regulation.
Ratifying and developing a successful experience
With two hundred candidates admitted and trained in 2004-2005, and the clear success of the initiative, the Paris Fire Department wants to take a step forward and accommodate four hundred to five hundred youths for each session. To achieve this, the curriculum must now be divided among twelve first aid centers of the Île-de-France district. To furnish them with operational receiving capacity, ASASPP has to acquire basic facilities for first aid teaching, drills and sports sessions.
The total budget is 280 000 euros, of which a large share is already financed by the European Social Fund. By granting 30 000 euros to the project, the Veolia foundation participates in the success and permanence of the system.