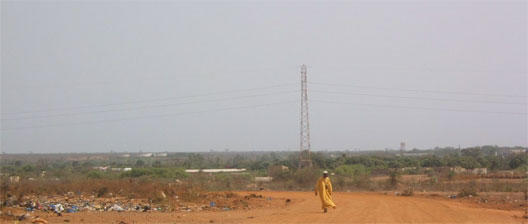 Environment and Biodiversity
Place
Thies, Senegal
Sponsor
Fatima Diallo
Grant(s)
10 000 € to the Selection Committee at 2012/06/05
Project leader
"I wanted to sponsor this project because it fits in ideally with my personal approach initiated last year, which got me involved in the development of the Thies region. This territory contains many representative challenges of the problems prevalent today in the countries of the south. For this project, I'm capable of mobilizing the skills I gained in training as an urbanist geographer, and my training in environmental services will help enrich my approach to this territory and its issues."

Fatima Diallo
Created in 1982 by the urbanists of the new city of Cergy-Pontoise, the nonprofit Les Ateliersinternationaux de maîtrise d'œuvre urbaine today form an international network of professionals, academics and decision makers in urban planning. With its core practice of urban contractorship, the nonprofit organizes international workshops considered as a hub of creativity and exchanges. The method developed by the nonprofit over the last thirty years consists in gathering together, for an unbroken and limited period, men and women of different nationalities and professions (engineers, artists, urbanists, geographers, architects, economists, etc.), and getting them to work in teams on a real issue of urban planning and development, selected jointly with the local authorities. Since 1997, the nonprofit has been active internationally, organizing workshops in other continents, in Asia, Africa, around the Mediterranean, and in Latin America. Les Ateliers is also considered by the French Ministry of Foreign and European Affairs and the Ministry of Ecology, sustainable development, tourism and housing, as a major factor in exporting French knowhow on urban planning.
Fighting the desertification and erosion of the Thies plateau
Today, we head for Senegal, specifically the town of Thies, and one of the workshops run by the nonprofit. The heart of this workshop contains the environmental challenges encountered in the region, and mainly the search for ways to fight the desertification and erosion of the Thies plateau. In addition to its environmental dimension, the project also makes it possible, for the first time, to pool the various families of competent players on rural/urban interface issues: municipal authorities, deconcentrated State services, surrounding rural communities, the players of civil society (NGOs, collectives, artists). The workshop over, the involvement of the technical and financial partners, like the UN Habitat, the National Agency for Territory Development and the Service for Cooperation and Cultural Action of the French Embassy, ensures the consistency of the project with sector policies and attests to the importance of the challenges and the follow-up of the recommendations issued.
The Veolia Foundation is backing this territorial development project by assuming part of the tangible and intangible investment costs.