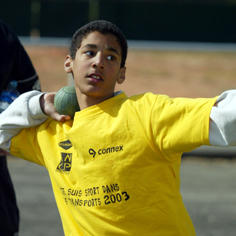 Environment and Biodiversity
Place
Seine-Saint-Denis, France
Grant(s)
€558,000 over three years, €230,000 over two years, board of Trustees: June 19, 2007. to the Board of Administration at 2004/12/07
Project leader
Je suis sport dans les transports
Each year since 1998, the ANCP (national association for prevention and citizenship) has led an operation for 11 to 18-year-olds in Seine-Saint-Denis called "Je suis sport dans les transports". Through guided tours of bus centers and various sporting events, it makes adolescents aware of the concepts of respect for others and personal achievement while helping them understand the essential role of public transport.
Three renowned sportsmen have signed this project with their own names: Muriel Hurtis, Patrick Vieira and Olivier Dacourt. The repeated positive impact of this event led its sponsors to broaden its scope starting in 2004. Along with the initial goal of preventing incivility in public transport, the project will now focus on increasing good citizenship and community spirit in all public places. Around sports meets, the young persons participate in many educational activities (simulated trials, meetings with carriers, civic and cultural festival, etc.).
Reaching out to thousands of young people each year
The Veolia foundation decided to join this operation's starting line-up for the 2004-2007 seasons, along with many other partners such as Veolia Transport, the RATP, the SNCF, the conseil général of Seine-Saint-Denis, 35 of the department's 40 towns, and the State education system.It has accordingly supported a vast three-pronged prevention operation: furnishing a "civic bus" which will travel across the district to meet the young persons, particularly in junior and high schools, organization of a "civic festival" marked by sports and cultural meetings and the installation of rugby initiation workshops, in the context of the World Cup championship held in 2007 the Seine-Saint-Denis district. The results are convincing: the civic bus accommodated more than 15,000 adolescents, and the festival gathered together more than 4000 young persons.
To prolong this experiment, the Veolia foundation has renewed its support for the operation for the 2007-2008 period. This project is fully in line with the awareness raising activities carried out in previous years: development of educational kits for primary school teachers and students, organization of a photo exhibition, writing workshops for the publication of a book. The second festival was held in connection with the 2008 Olympic Games in Beijing, and taught over 13,000 young people about citizenship.
The foundation grant was used to improve the civic bus and to double its accommodation capacity: a genuine modulable space has been created, capable of adjusting to many spatial configurations and proposing new events. For example, interactive terminals, their content linked to an educational kit, allow the visitors to test their knowledge about citizenship.