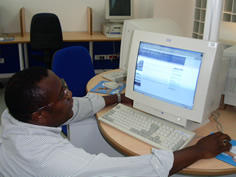 Environment and Biodiversity
Place
18th arrondissement, France
Sponsor
Marie-Gaëlle Bameulle-Godinot, Veolia
Grant(s)
30,000 € to the Selection Committee at 2005/07/05
Project leader
Egénération
«  This initiative strikes me as providing an essential contribution to the work being undertaken by associations today. What's the point of creating more and more computer tools if no-one is teaching citizens how to use them? In addition, the association establishes real social contact between the residents with a focus on learning, exchange and sharing and this is something I find particularly praiseworthy. »

Marie-Gaëlle Bameulle-Godinot
Reducing the "digital divide" by enabling a wider public to appropriate computers and modern communication tools: this ambition lies behind the setting up by the "Egénération" association of a multimedia centre in northern Paris, close to the Porte Montmartre and the Porte de Clignancourt. There are multiple needs in this district beset by high unemployment, poverty and educational failure. The centre welcomes children from underprivileged backgrounds at local schools for extra teaching sessions, as well women interested in teleworking and others from immigrant backgrounds requiring help with reading & writing or wishing to enrol in computer and Internet courses with a "surfing certificate" awarded at the end.
Coming together to learn and create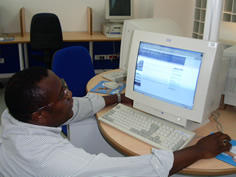 The association also helps the elderly who have difficulty in online form-filling to manage their relations with authorities and public services. Another priority lies in finding employment for the young people who make up 60% of the trainees.
This project is also backed by the regional directorate of labour, employment and vocational training, which considers that the training in new technologies represents a means of developing the skills and employability of the neighbourhood's residents.
Alongside other partners (Préfecture de Paris, Caisse des dépôts, Crif, Fondation Caisse d'Épargne), the Veolia foundation is providing funding for renewal of the installed computer base and equipment for this multimedia centre. "Egénération" intends to turn it into a forum of exchange for traditional, social and professional cultures rather than just another place of learning, A place where concrete solutions to the neighbourhood's problems can be defined together.