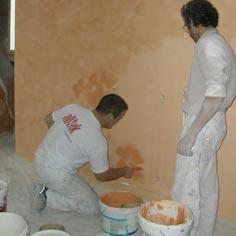 Social and Employment
Place
Saint-Étienne, France
Sponsor
Jean-Marc Buffelard
Grant(s)
25,000 € to the Selection Committee at 2004/11/30
Project leader
DSL
« Je suis confiant sur le projet et sur son porteur. Les différents renseignements pris auprès des élus de la commune d'implantation sont particulièrement favorables. »

Jean-Marc Buffelard
Most of the employees of the DSL paint and plaster company are former delinquents and long-term job seekers. Fortunately, 80% return to the world of traditional employment at the end of their integration process. What is DSL's secret? Each integration job is given personal and technical training and support by experienced professionals. Through serious manual apprenticeships, employees in difficult social and professional situations regain confidence in themselves and get back on track to finding work.
Supplementary activities
For its 23 employees, 10 of whom are on integration contracts, DSL set up a plan to further train them in the professional skills necessary to tracking the evolution of construction finishing practices.
Today, a new market won with OPAC in Saint-Étienne has given DSL hope of continuing its growth. To honour this three-year contract, the company would like to hire six new integration employees and three supervisors in the strategy of guiding them into complementary activities such as plumbing and flooring. The Veolia foundation donated a 25,000 euro grant to DSL, which will help it obtain new tools and purchase equipment which is still lacking.