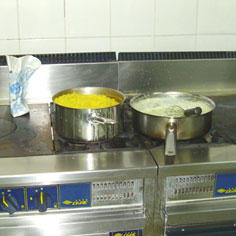 Social and Employment
Place
Paris, La Goutte d'Or area, France
Sponsor
Gérard Pignon
Grant
30 000 € to the Selection Committee at 2007/01/31
Project leader
Aurore
«I will be retired by next October and won't be able to participate actively in this project to help the socially excluded feel dignity. When I was a kid, I myself have known difficulties which actually started in the 10th. I therefore am very motivated to be a part of this project.»
Gérard Pignon
Add solidarity to employment
«Lectures gourmandes» a restaurant run by the Aurore association hires seven people from their re-employment and re-adaption program for people in trouble. Prior to their hire, these people had been unemployed for a long time or people who benefit from RMI. They are trained for two years to learn the various skills needed in the restaurant business ( kitchen help, waiter, dish washer, etc). In this way, these people may hope to find steady employment in this dynamic field.
Up until now, «Lectures Gourmandes» has been open for lunch only. Aurore wishes to expand the restaurants services.
Up until now, « Lectures Gourmandes » has been open for lunch daily. Aurore wishes to expand the restaurant services.
By opening at night, the restaurant will be able to offer, daily, a hundred more place settings. That way, the restaurant will also be able to increase its team and hire two more people and one more trainer. Additionally, Aurore wants to participate to the solidarity policy lead by other associations, helping families in the 18 and 19 arrondissements of Paris. The opening of the restaurant, at night, will be a solution to offer free meals to families in trouble. Aurore will distribute monthly renewable access cards. Many of these people live in hotels with their children and are taken care of by the Samu Social or other social services of the city. Depending on the number of empty places in the restaurant, it will remain open to those that are ready to pay 5 euros for a meal. The aim of this program is to blend the homeless, the employed, the elderly, those in trouble.
The association will offer its most disadvantaged clients cultural events such as museum visits, trips to the theater. And the restaurant will organize theme nights and exhibits.
Aurore has solicited VEF to help them expand their activities. Donations will help « Lectures Gourmandes » renovate their kitchen installation which is old fashioned and too small, and install a cold storage room. These items are essential investments to further develope its activities.