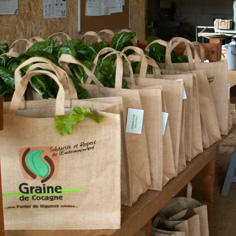 Social and Employment
Place
Saint-Marcel-lès-Valence (Drôme, France
Sponsor
Helena Thrap-Olsen
Grant
10 000 € to the Selection Committee at 2009/12/01
Project leader
Parenthèse
The association Parenthèse which has for over twenty years been one of the privileged partners of the regional players, created one of its gardens, Graine de Cocagne, in June 2008 at Saint-Marcel-lès-Valence, in the Drôme district. The first baskets were delivered four months later, thanks to the professionalism and motivation of the association, which set itself a deadline of March 2010 to boost its production and the number of back-to-work jobs. These jobs are intended for men and women of any age, on the sidelines: minimum-wage earners, destitute, homeless, long-term unemployed or persons who have never worked and experienced social, professional or personal difficulties.
Baskets of vegetables are sold to over two hundred families
Graine de Cocagne has set the goal in 2010 of selling its baskets of five to six different vegetables according to season (sometimes ten in summer) to over two hundred families.
At this stage, the Veolia Foundation has been approached to share in the investments required to equip the shed, buy office equipment, equipment to work the soil and for crop maintenance, irrigation, water supply and treatment, and the preparation, storage and transport of the baskets.
The gardeners are employed to work on various assignments: preparation of hothouse and "open field" crops, preparation and delivery of vegetable baskets, upkeep of the premises and equipment maintenance, contacts with members, secretarial services, management and collateral activities (markets, sale of organic produce, etc.). On the whole, the association will employ 16 gardeners on back-to-work contracts, two assistants under subsidized contracts, and four­ full time persons on open-term contracts.
After having initiated the project and boosted production and the number of back to-work jobs in a second phase, the period stretching from May to December 2010 will be devoted to consolidating the activities.