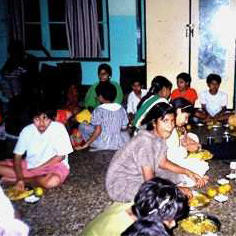 Social and Employment
Place
Bombay, India
Sponsor
Denis Lépée
Grant(s)
46.000 € to the Selection Committee at 2006/03/28
  Project leader AFEA (Association française pour l'enfance abandonnée)
«  In 44 years, the association Snehasadan has enabled more than 8000 children to escape the fate of "street children", thanks to its commitment to help them obtain quality education. A total of nearly 30 000 children have benefited from its aid.  »

Denis Lépée
Bombay, the biggest city in India, has more than 15 million inhabitants–and counting. They include immensely rich families, as well as millions of poor, many of them children living in the streets.
In 1967, the French association AFEA (French Association for Abandoned Children) was created to provide financial support for the actions conducted in Bombay by its Indian sister association Snehasadan ("The home where one is loved"). The two structures mobilized to provide their young protégés with everything they lacked: care and food to start with, then a roof, holidays and skilled vocational training (welders, carpenters, electricians) for the most motivated. Over the years, they opened two day reception points in the stations, seventeen residences, a holiday home, a technical school and a reception home for mothers living alone with their children. They also offered 300 grants to orphan students.
Reconstruire
But in August 2005, the devastating monsoon and typhoon cause enormous damage to the structures. One of the homes was completely destroyed: indoor installations and structural work. The cost of reconstruction: 190 000 euros.
Approached by AFEA and Snehasadan, the Veolia foundation decided to grant the 46 000 euros requested, the remainder being provided by the two associations. This will help balance the budget to finance the construction work, but above all, to re-house the 15 young orphans who had found more than just a roof in this residence: a true "home".