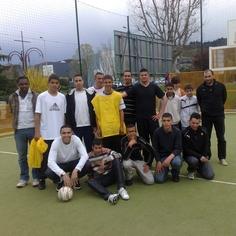 Social and Employment
Place
Firminy (Saint-Étienne urban community), France
Sponsor
Philippe Debyser
Grant(s)
15 000 € to the Selection Committee at 2009/09/29
Project leader
"I consider this project to be important in a city that has been severely struck by the crisis and which, even before the crisis, was deeply affected by a higher level of unemployment than the national average.
The youths of the neighborhoods of Firminy are generally well integrated, but inactivity can be the cause of tension. It is therefore very important to take measures to accompany them and to help them make contact with the corporate world. I'm in a good position to know about the disconnect between youths with an average school education and the world of work, and therefore highly enthusiastic about the formidable potential of this project."

Philippe Debyser
At Firminy, in the Saint-Étienne urban community, it is extremely tough for young persons to find jobs. 
The unemployment rate there is 38.1%, compared to 22% for the national average.
A sports association, FCO Firminy, decided to tackle the problem by making use of its solid establishment in youth circles (it has 527 licensed members) and its reputation in the social field, which it gained by developing many projects with the city: the fight against all sorts of discrimination and against social and professional exclusion.
In this context, its latest initiative is called "entrepreneurs for jobs".
The target: a job or training for all the accompanied youths
Thanks to this project, FCO Firminy will encourage the youths who come to practice their favorite sport to turn progressively to the corporate world and to organize themselves to find a job. But it will also support them throughout the process.
To begin with, the idea is to identify their ambitions and their skills. Then, the FCO will help them prepare a Resume, write a motivating letter, and set up an interview.
The association will then organize meetings with the companies. These may have various forms: field trips, meetings with professionals and - why not? - a football match. The grant from the Veolia Environment Foundation will serve to buy the vehicles to convey the youths of Firminy to the companies of the urban community.
For a start, the FCO will propose this new curriculum to twenty youths aged 14 to 26.
It has set ambitious targets for the very first year: it intends to place five youths on open-term contracts, ten on fixed-term contracts, seven in vocational training courses, one on a professional contract, and one on an apprenticeship contract. And to make the system run smoothly, the association has already decided to hire four persons from the disadvantaged neighborhoods of Firminy, in order to provide serious supervision for the youths.
This initiative is guaranteed to revive hope among those who were ready to quit.