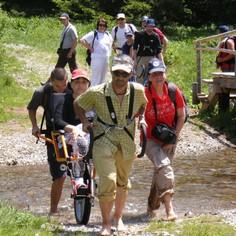 Social and Employment
Place
Bulgaria
Sponsor
Antony Zahariev
Grant(s)
20,000 € to the Selection Committee at 2010/01/26
Project leader
Fondation Outward Bound
"This project is highly interesting because innovative in Bulgaria.Handicapped children can experience adventures in nature and discover their beautiful country."

Antony Zahariev
A Joëlette is a means of transport, designed and manufactured in France, which has changed the lives of a large number of handicapped persons by enabling them to discover forests, mountains and nature. It's a sort of "all-terrain" wheelchair, equipped with a single wheel and pushed by an assistant. Thanks to this invention developed in 1990s by a company in Saint-Étienne, Bulgarian children will now discover the joys of outings in the wild, regardless - or almost - of the quality of the land. In Bulgaria, handicapped children are still too often trapped in "children's homes", rather sad orphanages, or cloistered in their families, who are stymied by the lack of resources and national programs adapted to their handicaps.
Onward and outward, always more open to others
Developed by Fondation Outward Bound, an organization which has over seventy years experience in the United Kingdom, the USA and some 30 other countries, the Bulgarian project backed by the Veolia Foundation will help these young persons to experience the joys of reaching beyond themselves and opening to the outside world.
Throughtout the year, when the weather is fine, day hikes are organized in the mountains. Every child in a Joëlette will be accompanied by a parent or an assistant and also by a member of Outward Bound and by volunteers. This activity led with respect and tolerance of the differences, give to handicapped children, the opportunity to communicate and to meet people.
The experiment, unique in Bulgaria, will start in spring of 2010. Initiated by Lucile Colmiche, a former doctor installed in Bulgaria since 2006, it will probably put the smile back on the faces of these young people.