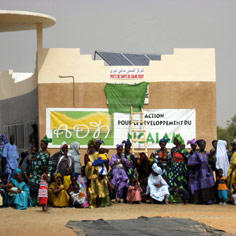 Humanitarian and Development
Place
Sagné Diéri, Mauritania
Sponsor
Jacques Sibony
Grant(s)
25 000 € to the Selection Committee at 2007/05/22

  Project leader AGIRabcd
«  This project is designed to make a comprehensive improvement in the quality of the care provided in the village of Sagné Diéri. It is serious and solid, particularly through its reliance on a local consulting firm to guarantee the soundness of the technical decisions made.  »

Jacques Sibony
Deep in the Sahel, the Mauritanian village of Sagné Diéri lies three kilometers from thebanks of the Senegal river. Deeply enclaved, it has no road infrastructure and possesses neither power network nor water supply. The women of this commune of 1,800 inhabitants continue to have their children at home, since for the time being, the health station is only a nursery school classroom doubling as a dispensary. As to the water (unfit for drinking), it has to be drawn from the river or the backwaters which disappear in the dry season.
Under these conditions, the estimates of the ADN (Association for the Development of Ngalam), grouping Mauritanian immigrants of the Val-de-Marne area, indicate very high child mortality, about 10 to 25%.
Additional training in hygiene
The ADN therefore turned to AGIRabcd, an association of retirees determined to promote cooperation and development. Together, they plan to build a health station worthy of the name and conforming to the new health charter drawn up by the Mauritanian State.
This new establishment will comprise a main building of 112 m2, ancillary structures (an open shed, sanitary blocks, waste incineration), lighting by solar panels for the delivery room, a refrigerator and a drinking water reserve. The old village well, now obsolete, will also be completely renovated.
The grant accorded by the Veolia foundation will finance this imortant project. For its part, the Mauritanian State will supply the equipment, the medicines necessary and assign three persons to run the center: a nurse, a midwife and a health assistant.
Finally, to effectively supplement this comprehensive action in favour of the health of the newborn and their mothers, training in hygiene and health will be dispensed by the members of AGIRabcd: the babies are in fact frequently victims of malaria, diarrhea caused by the unclean water, respiratory infections and anemia.