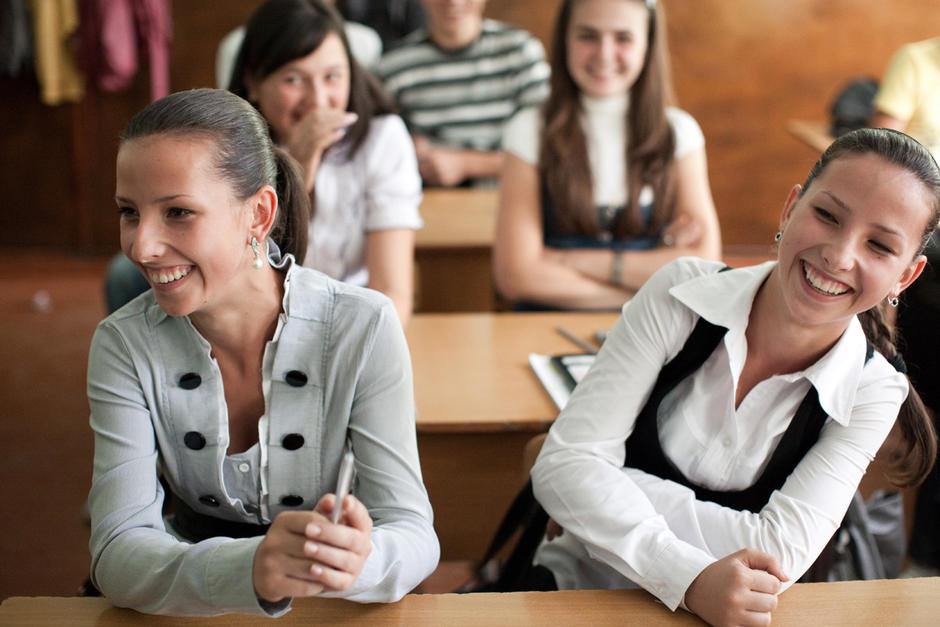 Humanitarian and Development
Place
Sireti, Moldova
Sponsor
Marie-Françoise Malheu
Grant
43 000 € to the Selection Committee at 2010/01/26
Project leader
Moldavenir
"Moldavenir has been helping the rural population of Moldavia over the years, through concrete projects alongside persons known to the association, in an atmosphere of mutual trust.
The actions conducted are monitored by visits to the site at least twice per year, to motivate the staff and validate the achievements. It relies on French speakers, on youth (the future of this country) and on mutual trust."
Marie-Françoise Malheu
A high school with seven hundred pupils and over fifty teachers, that has no sanitary blocks, despite its proximity to the European Union. Inconceivable? Not in Sireti, a village located in the raion (administrative unit created in the time of the former eastern bloc and still in use in a number of countries) of Straseni, in Moldavia. When it was built in 1968, everything had been planned and sanitary blocks had been built.
The only problem: they were never connected to the drainage network! In all these years, the students and teachers therefore use latrines with all the attendant drawbacks: odors, difficult drainage and routine transmission of diseases.
The team of the Veolia Foundation, installed on the spot, was called in to investigate the needs by the association Moldavenir - a French nonprofit that has been working for over 10 years with the rural populations of Moldavia, and whose headquarters are located at Mary sur Marne. The answer: the construction of three sanitary blocks (boys, girls, teachers) to improve the living conditions and to consolidate the rules of hygiene.
Keeping the heat inside and the cold outside!
But the school has another worry: its windows are leaky, letting the cold wind blow in on one side and letting the heat go out the other. Moldavenir and its partners have therefore decided to supply this other need. The old wood frames will be replaced by PVC windows, with double glazing. The Veolia Foundation is participating in these two initiatives by partly financing the construction of sanitary blocks and the replacement of the windows.
At the same time, Moldavenir is involved in another two projects. First, a decentralized cooperation agreement between the raion of Straseni and the community of communes of the Pays d'Ourcq, structures to which the Sireti High School and the association respectively belong. Secondly, the Bossuet School in Meaux has signed a partnership agreement with the school of Sireti. Moldavian teachers have accordingly come here to visit the French school. And the students of Meaux went off to visit the students of the Sireti school this winter. Undoubtedly, only the first of many exchanges to come.
A partnership to rehabilitate the Sireti senior high school
After carrying out a final mission to inspect the works, acceptance of the toilet blocks and inauguration of all the rehabilitation works on the Sireti senior high school were completed for the 750 students in time for the new school year. The village of Sireti, located in north-west Chisinau, has 6,000 inhabitants. The Veolia Foundation is financing part of this program in partnership with the international outreach nonprofit Moldavenir and the Orange foundation in Moldavia.