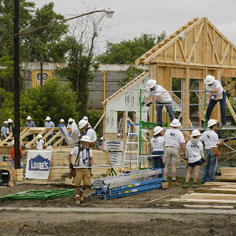 Environment and Biodiversity
Place
Sonoma County, California, United States
Sponsor
Kent Hinton
Grant(s)
35,000 € to the Selection Committee at 2007/12/04
Project leader
Habitat for Humanity
"Veolia Transport's backing for the association has been relayed by the employees of the group. Many of them have expressed their interest in the Habitat for Humanity project, and a group of volunteers will in fact participate in constructing the homes. Since Veolia Water also has operations in Sonoma County, I plan to contact the local manager and suggest that his teams pitch in with ours."

Kent Hinton
Since 1976, Habitat for Humanity has been fighting poverty by offering decent homes to the most destitute.
Its efforts have already enabled a million persons, living in more than 90 countries, to find shelter.
In late 2007, the Californian delegation of the association received an endowment of several virgin plots in Sonoma County, where it plans to build nine homes meeting the construction principles of "High Environmental Quality (HEQ)".
Outreach oriented and respectful of ecological requirements
To be eligible for this environmental label, the construction sites will use certified materials (recyclable wood, special cement, bamboo, floors, etc.) and ecological paints. The homes will also be equipped with solar collectors and heat pumps.
Built by volunteers and members of the association - masons, plumbers, painters and roofers - they also incorporate a strong outreach dimension. In fact, all the families concerned by these homes are strongly encouraged to "lend a helping hand". After becoming owners (thanks to interest-free loans granted by the association), they agree to sell them only to other needy families and members of Habitat for Humanity.
This outreach mechanism has already allowed the construction of nearly 200,000 homes; this dynamic has, for example, received the backing of key personalities, like the former president of the United States, Jimmy Carter. Alongside anonymous donors, local authorities and private players, the Veolia Foundation is financing the purchase of ecological equipment for the homes.