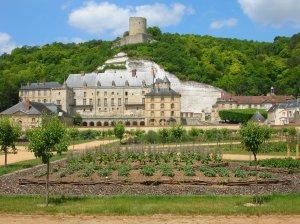 Social and Employment
Place
La Roche-Guyon, France
Sponsor
Gérard Etcheverry
Grant(s)
15 000 € to the Selection Committee at 2009/09/29
Project leader
Association VIE vert
"The Foundation has already supported one of the projects of this association.
My predecessor was its sponsor, and I'm his replacement. I have full confidence in the staff of VIE Vert, their motivation and their organization."

Gérard Etcheverry
The vegetable garden of Château de la Roche-Guyon, created in the XVIIth century in the heart of the French Vexin Natural Regional Park, has always been a place for cultivating traditional species and a genuine experimental centre for the creation of hybrid flowers, vegetables and fruits.
Its renovation was decreed in 2008: to breathe life into this historic site, while meeting its original objective and the new environmental requirements. This renovation should translate into a varied production and its distribution in three directions: the surrounding markets, organized associations - such as Coops - and social outreach networks.
But even more, thanks to the workforce development project, the orchard proposes to provide back-to-work jobs for twelve persons in difficulty.
Discovering the "green" trades, both traditional ... and innovative
The association VIE Vert - the offspring of the "parent" association VIE (Vexin Insertion Emploi) - has taken charge of implementing the project, in partnership with the park management association and the General Council. The persons included in the program will be busy on the worksite and apprenticeship phases, and will also receive individualized social accompaniment.
Twelve jobs have been created, but some of them could accommodate two or three persons in succession. The original spirit of the vegetable garden/orchard will be respected and ancient and reference varieties will rub shoulders with more recent ones. Thanks to the extreme diversity of the crops and the application of innovative cultivation techniques engineered by the participants, this project, slated to spread over three years, should achieve a back-to-work figure of 50%, compared to 30% for previous projects.
The grant from the Veolia Foundation will be used to buy a vehicle to transport the personnel.