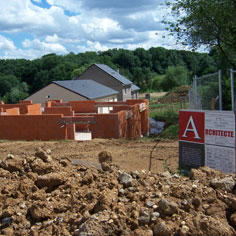 Social and Employment
Project leader
Place
Marange-Silvange, France
Sponsor
Olivier Le Grontec, Veolia Transport
Grant(s)
30 000 € to the Selection Committee at 2007/07/03
"In the Marange-Silvange children's village, everything possible is done to recreate a family environment that fosters social and professional integration. This major experiment enjoys considerable influence in the Metz built-up area and the overall region."
Olivier Le Grontec
By opening a second home in its village in Moselle, the association SOS Villages d'Enfants will provide poor orphans with the warmth and security of a second family home.
From its beginnings in the wake of World War Two, the association SOS Villages d'Enfants resolutely pursues its action around a simple but powerful idea: to welcome children who are orphans or deprived of their parents, without separating brothers from sisters, and enable them to grow together in a family environment. After having backed the creation of the SOS village of d'El Jadida, in Morocco, the Veolia foundation is prolonging its partnership with the association by contributing to the extension of the SOS village of Marange-Silvange in Moselle.
This village, built in 1964, fits in perfectly with the life of the commune and benefits from the proximity of all the group facilities, school, sports and cultural. In addition to 40 years of existence, it has seen and "raised" 277 children, or 86 sibling groups. But its nine homes are no longer enough to satisfy local needs and the countless orphans suffering severe social distress. The village is therefore expanding with a tenth family home, raising its accommodation capacity to 50 children. The grant from the Veolia foundation will help finance the finishing works for the new building.
From Childhood to Working Life, a Personalized Accompaniment
At Marange-Silvange, as in all the SOS villages (44 worldwide including 13 in France, for 4500 children), the SOS mothers and helpers assisting them strive, with devotion and skill, to offer each child a quality environment in terms of affection and education. The association particularly emphasizes the definition and accompaniment of an individualized project for each child, from its first steps to the success of its social and professional integration.