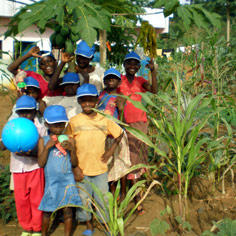 Social and Employment
Project leader
Agermanament sans frontières
Place
Éseka (département de Nyong et Kellé)., Cameroon
Sponsor
Carlos Gomez-Morodo
Grant(s)
9 000 € to the Selection Committee at 2007/01/31
«It is already a major achievement to have a school for the deaf-and-mute children, but the idea of ASF to provide professional training is the best guarantee that they will not be rejected because of their handicap».
Carlos Gomez-Morodo
Marginalized by their own community, driven back by their families, children born with a handicap, in Africa, often get rejected. Young deaf-and-mute children do not escape from this and in Cameroun are considered a burden to their families. For these reasons, associations take of the children. They know that their future depends on a good level of learning.
ASF, Spanish associations and members of the United Nations Economic and Social Council have created many programs for Cameroun geared to help these fragile populations. These programs started in the 1960's.
A job / A future
The ASF has been helping 8 missionary volunteers for the last six years to run an institute for the young handicapped (Imsha) and run a school for the deaf-and- mute children. There are 31 students (male and female), all from very poor rural families, that live in a nice residence.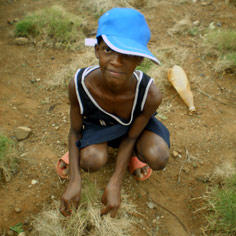 Today, ASF and Imsha wish to provide their students with professional training in order to help them acquire skills that will lead to a job. Once it is time, they will be able to find their own place in the community. As this is an agricultural area, cultivating a working- garden has been chosen as the appropriate training. The young hearing impaired form Imsha will learn how to cultivate and grow tomatoes, beans, peppers, wheat, using age old local know-how. The harvest will provide for 39 daily meals for the students and teachers.
The project consists of building a well, a mill, and purchasing agricultural tools, fertilizer and a water pump. VEA is associate with this project so that these children may grow into adulthood and have their dignity.