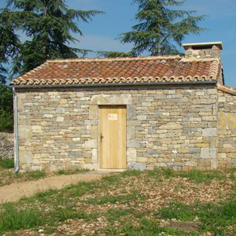 Social and Employment
Place
Rocamadour, Lot, France
Sponsor
Marie Berthoumieux
Grant(s)
20 000 € to the Selection Committee at 2007/04/03

  Project leader La Borie d'Imbert
« 
The La Borie d'Imbert association's project is comprehensive. It combines outreach, workforce development and environmental conservation. Integrating handicapped persons and recovering a place for them in our society is a challenge which the association has taken up with brio. The jobs created are particularly solid because the farm is one element of a tourist circuit designed to enhance the life of the region. »

Marie Berthoumieux
In a world where discrimination must be battled constantly, the association La Borie d'Imbert has challenged the conventional wisdom. Thanks to the determination of its managers, it now employs mentally handicapped persons in a 22-hectare farm converted into an ecomuseum. With 17 jobs already created for them, they enjoy a prominent place alongside the other employees.
The La Borie d'Imbert farm, located a few kilometres from Rocamadour, attracts many tourists every year, curious to discover how the peasants of this region lived and worked in the good old days.
Another six jobs
Starting with a visit to "Justine's house", the core of the main farm, and on through the poultry farm and the old style kitchen garden, the young and the less young marvel before a reconstruction which imbues them, through a narrative illustrated by living tableaux, with the ambience and the life of yesteryear in a farm of the Lot. The centerpiece of this guided tour is the goat cheese factory, which unveils all the secrets behind the making of the crown jewel of the local gastronomy: the rocamadour.
To add to the present scenographic itinerary, a new project is aimed to renovate an ancient bread oven. This new program will be supplemented by the construction of sanitary blocks and the renovation of a barn to improve the hospitality for the tourists and sell the produce from the farm. It will help to hire another six handicapped persons, including a pair of guardians. The Veolia foundation is engaged in the project so that La Borie d'Imbert can continue to offer the mentally handicapped an active role in the economic life of the region.