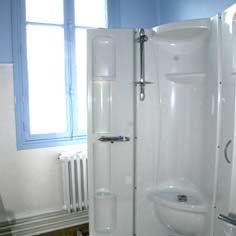 Social and Employment
Place
Reims, Marne, France
Sponsor
José Pouillard
Grant(s)
35 000 € to the Selection Committee at 2006/03/28
  Project leader Roseau
«  This project is designed to improve the quality of life of distressed fathers and mothers. I can easily imagine the smile of a mother opening the door to the bathroom and enjoying the opportunity for a moment of relaxation, procured by such welcome comfort, in the midst of her agony. »

José Pouillard
Faced with cancer, anything that helps improve the patient's quality of life makes it easier to accept the often exhausting medical care, and can even engender a welcome remission, perhaps even a cure. This is true for adults and even more so for children. And this is why, in 1991, the doctors of the pediatric oncology ward of the American Hospital in Reims created Roseau.
This association purchases paramedical equipment to improve the comfort of the children. It organizes fun afternoons, festive events, the distribution of toys, magazines and computers, and even excursions for a picnic or a spell in the mountains if permitted by their condition.
Yet Roseau also deals with the parents: weekly meetings for listening and talking, financial assistance for the poorest families, many months of comfort during a period of mourning. And during the child's hospitalization, the association tries to have them stay as near as possible. It accordingly set aside part of the buildings of the American Memorial Hospital, a national historic monument, for their use. However, these premises are obsolete and depressing today, making their refurbishing a priority matter for Roseau.
Accommodating the Parents
The renovation of the dining room and 14 bedrooms is already under way thanks to the backing of the Ronald McDonald Foundation. The 35 000 euros granted by the Veolia foundation will be used to refurbish the adjacent bathrooms. At the rate of 2 500 euros for each w.c., the old bathtubs can be discarded and replaced by a private shower and washbasin. These 14 simple yet functional bathrooms will offer the tired parents a few precious moments of wellbeing, which they sorely need to revive their spirits.