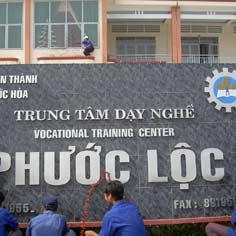 Social and Employment
Place
Phuoc Loc, Vietnam
Sponsor
Bernard Lecomte
Grant(s)
60,000 € to the Selection Committee at 2006/01/31
  Project leader AVE (Aide au Vietnam et à l'enfance)
«  A remarkable project which maintains a link, not only affective but also economic, between France and Vietnam, beyond the issue of adoption. The backing of the director of the French Chamber of Commerce in Vietnam, himself a member of the association, offers an additional guarantee of success for this long term project »

Bernard Lecomte
Since 1987, the doi moi policyaimed to establish a market economy has enabled Vietnam to make considerable progress. However, the population grew 62% between 1975 and 2003, and today, 15% of the country's 81 million inhabitants live below the poverty line. And the children are the first to suffer from this situation. Nearly one-fifth of them have no school to go to. This is why in 1997, spurred by a desire to continue their local involvement, parents of children adopted in Vietnam created Aide au Vietnam et à l'enfance (AVE) (Aide to Vietnam and to Children).
The association, which operates through collective sponsorship, supports more than a thousand youths today. Its goal is to provide skills training to very poor students, thereby maximizing their chances of finding a job. And to guarantee them stable and secure accommodation at the same time.
With the 96 000 euros of donations collected in 2004, AVE started a project in Phuoc Loc, a town about a hundred kilometers from Ho Chi Minh-Ville, of the southern tip of the country. Classes were inaugurated for 150 young girls in dressmaking and embroidery. A new building was built to accommodate a catering school.
Project Permanence and Growth
2006 saw the completion of the second phase of the project, the construction of a hostel for the young girls, enabling them to live comfortably during their training year. The catering school also needs a cooking workshop to provide training courses in the hotel trade and tourism professions, a growth sector in terms of workforce development.
While the operating expenses of the Phuoc Loc center are fully covered by the association, it still needs financial partners for the construction of the two hostel buildings and to create and buy the equipment of the cooking workshop. The 60 000 euros allocated by Veolia foundation will certainly help.