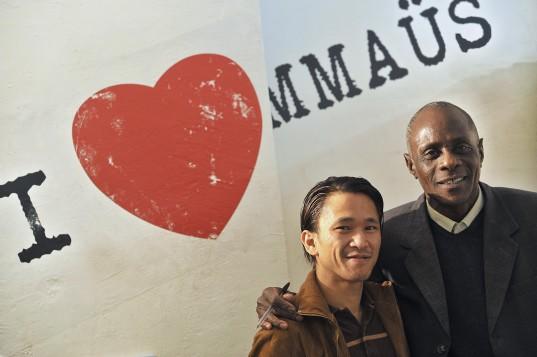 Social & Employment
Location:
Paris (France)
Sponsor:
Fabienne Piotelat
Grant:
€25,000 during the Committee meeting of 25/10/2017
Project Owner
"I know this association well and admire its dynamism and social work."

Fabienne Piotelat
Emmaus Défi is a social innovation platform looking for the best solutions to fight against social exclusion and allow everyone to regain their place in society. Emmaus Défi's activity is based on a back-to-work project that uses employment as the main lever. The return to employment of employees seeking to join the mainstream is gradual through various activities related to the collection, sorting, recovery, and sale of second-hand goods.
Learning woodwork and beyond
Among the programs making this return to work possible is the ReCréateurs wood workshop [1]. It allows employees in vocational rehabilitation to familiarize themselves with DIY and woodwork activities and allow them to discover a skill related to craftsmanship and access qualifying training in this field. Through the purchase of tools and specialized machinery (sandblaster, laminator, router, all types of sanders, grinder, circular saws, heat gun, grinding drum, welding station, etc.), program beneficiaries will train themselves in woodwork. They will also develop other cross-functional skills, such as workspace organization, the ability to work with and in a team, and autonomy.
An upcycling project with the aim of monetizing products
Through ReCréateurs activities, Emmaus Défi recovers goods and furniture to be recycled with particular attention to the recovery of wood materials as part of a circular economy approach. Furniture is either recovered or disassembled to be used in another category: creations. These become designer functional items made from recycled materials, such as table extensions, drawers, wood pallets, and bed slats.
Social innovation platform
Emmaus Défi has increased initiatives and innovative solutions to fight against social exclusion. The "première heures" program offers a gradual return to employment to create the missing link between the street and a conventional social integration contract. The "Convergence" program implements concerted support for employees regarding housing, health, and employment issues by developing a network of specialized partners (social landlords, health centers, businesses). Emmaüs Défi's Equipment Solidarity Bank helps people leaving precarious accommodation and accessing a secure accommodation to buy new essential equipment. Finally, Emmaüs Défi's Amistock donation and networking platform is an innovative and environmentally-friendly initiative that facilitates the donation of goods through the creation of an online platform offering multiple local deposit points and the possibility of reserving home collection online.
The success of the workshop also depends on the sale of ReCréateurs's creations. Emmaus Défi has already had a pop-up sales experience at BHV/Le Marais which will be repeated shortly. Places of sale and specific showcasing to promote the creations need to be found in order to address a target a little different from Emmaus Défi's target audience.
With the support of the Fondation Financière de l'Echiquier, the Maisons du Monde foundation, and the Veolia Foundation, this new workshop will provide guidance and ultimately train twenty employees under a social inclusion program.
---
[1] Launched in March 2017, the ReCréateurs workshop started with a sewing workshop.