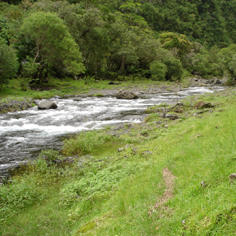 Environment and Biodiversity
Place
Reunion., France
Sponsor
Jacques Coutelle, Veolia Eau
Grant(s)
20,000 € to the Selection Committee at 2005/07/05
Project leader
Fédération des Aappma de La Reunion
«  The educational remit of this project is supplemented by a social dimension which I think is particularly important. In addition to protecting three jobs, it enables people with reduced mobility to discover the sheer pleasure of fishing. It is therefore in line with the twelve exemplary environmental initiatives which we have already saluted in Reunion via the "Coups de chapeau de Victor" operation. »

Jacques Coutelle
What better way than fishing to teach young people all about protecting freshwater resources and respecting the aquatic environment, and indeed the environment in general? On the basis of this philosophy, which has already been put into practice at the "Étang salé" site, the "Aappma" federation in Reunion plans to set up an angling school on the banks of the river Langevin, in a location classified as an area of outstanding natural beauty. Responsible for monitoring and managing the department's entire river-based heritage, the Federation hopes to run innovative courses open to all. With this in mind, the teaching centre and fishing pontoon created for this purpose have been converted to accommodate those with reduced mobility.
While also targeting the general public
The first phase of the project is dedicated to refurbishment and upgrading of the existing building, donated by EDF, so that courses can start at end 2005. Most of the funding is provided by the state, local authorities and the EU. Funding from the Veolia foundation will be used to ensure disabled access (modifications to toilets and construction of the pontoon). By means of this initiative, the Federation is safeguarding the long-term contracts of qualified angling instructors and an environmental facilitator, who oversee training of the young people while supervising the centre's activities.
In a subsequent phase, the premises will be extended to accommodate more visitors by inclusion of a permanent exhibition hall for the general public aimed at providing information on aquatic environments and underlining the importance of respecting them.