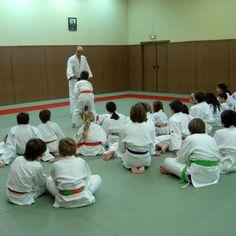 Environment and Biodiversity
Place
Dordogne, France
Sponsor
Arnaud Guillen, Veolia Energie - Dalkia
Grant(s)
8,000 € to the Selection Committee at 2005/07/05
Project leader
Usam
« This is an intelligent, ground-breaking approach which combines sport, the environment and education. "Judo Vert teaches people about life, since the participants push themselves to their limits in the sports arena, while learning to respect each other and the environment. »

Arnaud Guillen
An instructor for children who are deaf or suffer from other disabilities in the 18th arrondissement of Paris, Laurent Rabillon has also been French jiu-jitsu champion (1985) and holds a state diploma as a martial arts instructor. Keenly aware of the difficulties faced by some adults and teenagers (social problems, mental or physical disorders), he runs an association called "Judo Vert" which organises courses in many sports for people from underprivileged backgrounds. In addition to providing opportunities to take part in sport (judo, jiu-jitsu, karate), "Judo Vert" develops initiatives to increase public awareness of environmental issues.
Sport, respect for the environment and community action
In Saint-Vincent-sur-Isle, in the Perigord region, the 2005 summer school run by "Judo Vert" was aimed at socially excluded teenagers, children with minor Downs syndrome and an adult with a hearing disability. Mornings were given over to judo. In the afternoon, the group learned about respecting the rural environment: collection of river waste using canoes and kayaks, caving for beginners with an explanation of the functioning of underground water networks and their role in supplying neighbouring villages with drinking water, a tree-top adventure trail and information on the role played by trees in the cycle of oxygen renewal.
The Veolia foundation has provided "Judo Vert" with 8,000 euros in funding to cover part of its costs: purchase of sporting, IT and video equipment Arnaud Guillen, the project sponsor, has also worked as a volunteer on the course: a great way to put his judo Third Dan to some practical use.