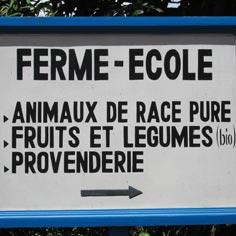 Social and Employment
Place
Ambatolampy, Madagascar
Sponsor
Danielle Pruneyrac
Grant(s)
€30,000 to the Selection Committee at 2006/10/03
Project leader
Sacré-Coeur vocational training center in Ambatolampy
"Brother Romain is a very charismatic man who is totally dedicated to Madagascar's young people. He is warm, humorous and enthusiastic, and knows how to channel all his energy and knowledge into making a success of the projects he undertakes. This farm school is one of the social welfare projects that are indispensable to the development of Malagasy society."
Danielle Pruneyrac
For 55 years, Brother Romain, a member of the Brothers of the Sacred Heart Congregation, has been devoting all his energy to helping disadvantaged Malagasy youth. After building several middle schools and high schools on the island, in 2001 he opened an orphanage in Ambatolampy for about a hundred children ranging in age from 5 to 16, along with a vocational training center for young single mothers and adolescents with substance abuse problems. The center is attached to the town's middle school and is recognized by Madagascar's education department. It prepares its students for the examinations leading to a high school diploma and certain vocational training certificates. A few months ago, fondation Veolia helped it acquire a dojo and an athletics field.
130 students a year
Now Brother Romain is tacking the challenge of creating a farm school that will teach agricultural techniques. With so few prospects open to rural youth, the objective of this new training center is to combat the exodus to cities. The "apprentice farmers" will be learning new techniques for improving agricultural land that will later allow them to make the most of their family farms. In addition, products from the farm school will go to the orphanage and neighboring schools.
The new school will be operating full time within the next few months; this means that between 12 and 14 permanent jobs will be created and about 130 students a year will be trained.
The main buildings have been built and 10,000 eucalyptus trees have been planted. In addition, five hectares of land have been enriched and seeded for market crops.
Brother Romain again turned to the fondation Veolia, this time to build a henhouse, animal shed, dairy, barn, store and classrooms and to purchase two all-terrain vehicles, 500 laying hens and six sows. That will get the farm school off to a great start.