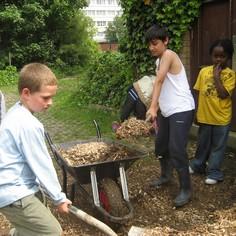 Environment and Biodiversity
Place
London, United Kingdom
Sponsor
Kevin Hurst
Grant(s)
25 000 € to the Selection Committee at 2009/12/01
Project leader
"The projects of the London Wildlife Trust meet a genuine demand from the schools and give the children an undeniable taste for environment related activities."

Kevin Hurst
It isn't so simple for a disadvantaged citydweller to learn about environmental conservation. We know very well that gaining awareness of our resources happens very early in life - at the age when children are strongly inclined to become young "spreaders" of environmental good practice with their families and friends.
For over twenty years, the London Wildlife Trust (LWT), which works to conserve the natural spaces of the city of London, has decided to devote a large share of its efforts to the students of the more disadvantaged neighborhoods. Its past experience has taught the LWT that these children have less and less contact with nature, while school groups increasingly seek outdoor activities or training to create open spaces.
The Green School project specifically meets this need by helping the teachers develop a garden in the school, by providing the educational tools to familiarize the children with civic issues, and by enabling them to find a responsible activity away from the classroom.
Ever more practical "green" educational tools
While the new Green School project obviously helps reinforce the activities (gardening modules and activities) that the LWT teams are already developing for the schools, it also pursues two other objectives. The first will be to provide ten training sessions for the school teachers and give them these contents via a "green school kit", with which they can then conduct their activities on their own.
The second objective is the organization of a contest that will have the schools compete around the topic of "Designing a Nature Garden". The winning project will become a reality with funding from the LWT. And every school involved will be accompanied by a Veolia Environnement volunteer employee. The Veolia Foundation will also share in the cost of developing the project.
On the whole, nearly 3000 children from a hundred schools will be integrated in this new Green School project. And even more than respect for nature, these children will seriously learn to play their role as citizens of tomorrow.