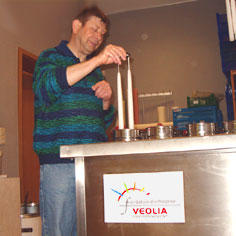 Social and Employment
Place
Springe. Germany, Germany
Sponsor
Thomas Dannemann
Grant(s)
10 ,000 euro to the Selection Committee at 2006/05/23
  Project leader Lebenshilfe für geistig Behinderte Springe e. V
« 
This is a small organization but its work is very effective and constantly developing. Thanks to its efforts, these vulnerable disabled people are able to stay in daily touch with so-called "normal" life.
 »

Thomas Dannemann
On top of the difficulties arising from their physical and mental condition, handicapped people often suffer from being isolated from the rest of the community. In Springe in the Hanover region, non-profit organization Lebenshilfe für Geistig Behinderte Springe e.V., set up in 1972, works to combat this problem. It offers weekday workshops and weekend activities for physically and mentally handicapped people unable to work in the more structured centers run by work integration social enterprises, along with therapeutic care and educational programs to help develop individual skills. The 24 people who regularly take advantage of these services today are mostly over 45, which means that their physical capacities are further diminished.
Need for specially adapted equipment
Among the activities proposed are wickerwork, papier-mâché and candle making. This last activity is particularly appreciated since the candles sell well in the local market and bring in cash for the organization's coffers. The only problem is that the workshop has only one mold, which cannot be manipulated by a single physically disabled person. The organization is seeking to acquire a specially adapted machine that would enable four disabled people, working in parallel, to produce the candles. But like most very specific equipment, the machine is very expensive – 19,000 euros – and the organization has only 2,000 euros to invest. It has therefore appealed for donations. The Veolia foundation decided to make a contribution by approving a 10,000 euro grant.