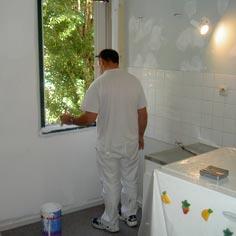 Social and Employment
Place
France, Agen, France
Sponsor
Alain Duplan
Grant(s)
15,250 € to the Selection Committee at 2004/11/30
Project leader
La régie de quartier d'Agen
« La Régie de quartier d'Agen does valuable work while helping to promote the city's image: Générale des Eaux Agen calls on its services for the maintenance and disinfection of water basins while building management firms benefit from its cleaning services. It is in real need of support if it is to develop further and bring work and training to those who need it most. »

Alain Duplan
Created in November 1998, "La régie de quarter d'Agen" has a twin objective: improve the urban living environment while offering social integration contracts to the city's inhabitants, particularly those in districts classified as ZUS (deprived urban areas). It currently employs 36 staff, of whom 25 on such contracts, and manages cleaning work (building entrances and staircases), public highway cleaning services and maintenance of green areas.
Twelve new staff
With the aim of expanding its structure so as to create more jobs, the association has decided to focus on two new goals: extend its geographical scope of intervention and set up a self-rehabilitation activity. For this latter project, inhabitants of certain deprived districts will be able to work on renovating their apartments with the help of staff on social integration contracts supervised by skilled tradesmen. After two years of onsite training in finishing work, they will be in a position to seek permanent jobs.
In total, "La régie de quartier d'Agen" is hoping to take on 12 new staff on social integration contracts and one technical foreman. But it needs financial assistance: this development can only go ahead if additional equipment is purchased for maintenance of green areas, along with two utility vehicles for staff transportation and the materials needed to refurbish apartments.
The Veolia foundation will provide 15,250 euros towards these purchases.