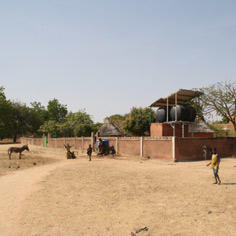 Humanitarian and Development
Place
Tuili, Burkina Faso
Sponsor
Jacques Pouliquen, Veolia Eau
Grant(s)
5,000 € to the Selection Committee at 2005/07/05
Project leader
Amicale laïque de Guilers
«  The long-term nature of the relations between the "amicale laïque" association from Guilers and the village of Tuili demonstrates the extent to which this contact has been fruitful and has been warmly welcomed by the locals. By combining access to water, solar energy and consolidation of the village's food self-sufficiency, this project manages to couple sustainable development with true human fulfilment. »

Jacques Pouliquen
Guilers, in the Finistère region and Tuili, in Burkina Faso, have built up a long-term relationship. Since 1989, the "Amicale laïque" association from Guilers has been helping with the development of this large village of ten thousand inhabitants some fifty kilometres from Ouagadougou, in the three key areas of education, health and the economy. The camps for young people and exchanges which it has been organising for the past fifteen years, with the support and participation of employees who are members of an inter-company committee based in Brest, have resulted in considerable progress being made: construction of two schools, renovation and fitting out of a dispensary and a maternity clinic, training of locals in hygiene and health matters, creation of numerous market gardens and a fruit and vegetable drying workshop to supplement revenues from production of cereals for a hundred or so families.
Improved access to water
The latest achievement has been the creation of a hostel for pupils attending high school some distance from their families and which is also used for meetings and community festivities which are so vital to village life.
The "Amicale laïque" association has established a new priority: to ensure that four hundred families enjoy year-round access to water, for human consumption, livestock and market gardening activities. In keeping with other initiatives which it oversees, this project to bore a well, fitted with a solar-powered pump and a small tank, will be conducted with the support and financial assistance of two local associations (the youth association and the association for the economic and social development of Tuili).
Funding from the Veolia foundation covers 50% of the cost of this vital project for the village, with work carried out by two Burkina Faso companies under the supervision of local companies.