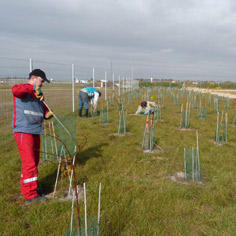 Social and Employment
Place
Beaune-la-Rolande, France
Sponsor
Fabrice Sauval
Grant(s)
€10,000 to the Selection Committee at 2011/06/28
Project leader
Jardins de la voie romaine
The nonprofit Le Jardin de la Voie Romaine aims to contribute to social development by fighting exclusion and fostering social cohesion, through the creation of a back-to-work project by organic truck farming.It picked Jardin de Cocagne because it contains a strong social component (giving the area a new workforce development capability) and an interesting environmental project (upgrading the land by producing organic vegetables).Installed at Beaune-la-Rolande, in a rural area of the Pithiverais, the nonprofit has therefore decided to upgrade an abandoned plot along the A19 expressway next to a service area.The project contains an innovative aspect, based on an unprecedented partnership: the involvement of a private group (Vinci) with the Réseau Cocagne network allows the development of a back-to-work- capacity in a difficult rural context, with complementary trades to truck farming activity (reception of the public, catering, room and board, upkeep of open spaces), while guaranteeing the mobility toward a job (nearness of expressway services).
An irrigation network must be installed to bring water to the whole plot
This Jardin de Cocagne is therefore aimed to test new sales outlets with the sale of fruits and vegetables to the A19 users in the neighboring service area, and to the adjoining restaurant.The nearness of the service area will also familiarize new publics with organic farming and job integration.The nonprofit has finalized the installation of a well and needs to set up an irrigation network to bring water to the whole plot.The production infrastructure (agriculture machinery, greenhouses, irrigation) is being installed, with the target of full production of the vegetable baskets by end of 2012 (140 baskets on 3.7Ha).The current team will then be enlarged to include 20 employees (15 gardeners and 5 full-time staff) at the end of 2011.
The Veolia Foundation is participating in setting up the irrigation system.