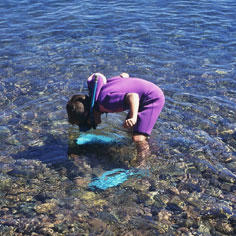 "The accompaniment of the families is the central feature of the proposition of the Marine World Discovery Center, a nonprofit that is unavoidable in environmental education in the Alpes-Maritimes district. It is even an essential prerequisite to the success of the project, to learn to fight waste and conserve the environment. As a father, an employee of Veolia, and hence a player in sustainable development, I strongly endorse this approach, which I would implement in my own home and in Veolia Water South East. This will help me meet the expectations of the staff, who want to know "how", having already been convinced of the "why" of sustainable development."

Gilles Rousseaux
Founded in 1991 to facilitate and develop activities in teaching, studies, research and the approach to the marine world, the Marine World Discovery Center (CDMM) is a pioneer in its comprehensive approach to this biotope. Aware of the difficulty of mobilizing and inspiring the public with purely scientific approaches, it is developing sports activities, entertaining discovery projects, events, etc. With an essential leitmotiv: to instill an awareness of the direct and indirect links between individual action and environmental conservation, to stress the need for everyone's involvement; and to help all interested persons to become the privileged players of conservation of the marine world. Today, the nonprofit wants to help children and adults focus on the concept of sustainable development, to translate it into eco‑responsible everyday acts.
Sharing experiences and ideas
This ambition will culminate in the production of a methodological guide, designed to popularize the principle of sustainable development and to highlight the good practices at the family level. Sharing of experiences, exchanges of ideas and the spirit of initiative will be encouraged and emphasized.
At mid-2009, the guide was in the test phase in ten families and its first version was being evaluated by the professionals such as Ademe, Comité 21 and Veolia Environnement. Then, thanks to the support of Veolia Foundation, this tool will initially be printed in 10 000 copies on recycled paper and distributed to the families which have asked for it. Presentation meetings will be organized through neighborhood committees of the city of Nice, the relays of the CDMM. And the user families will be accompanied by a staff member of the association, responsible for information, advice and follow-up. Ultimately, the CDMM aims at nationwide circulation, via digital support.