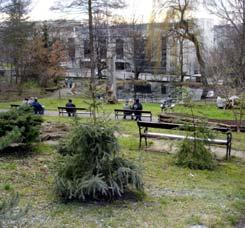 Environment and Biodiversity
Project leader
Gesellschaft von Freunden der Naturwissenschaften in Gera e.V.
Place
Gera, Germany
Sponsor
Kay Forner, Veolia Wasser
Grant(s)
10 000 € to the Selection Committee at 2007/01/31
«Each unhabitant of Gera knows its museum and its botanical garden. Thanks to the commitment of the GFNG association, this green oasis, located right in the center of the town, has been reknown for its excellent pedagogical and information programs».
Kay Forner
Three professional insertion jobs
In Gera, in Thüringe, people fond of nature sciences created the GFNG association (Gesellschaft von Freunden der Naturwissenschaften in Gera e.V.) to offer their talents to the natural sciences museum and its botanical garden. Over the past 150 years, since its inception, the support has never stopped. Today as the Gera is getting ready to welcome its annual national gardening exhibit, from april to october 2007, GFNG has naturally gotten involved with the museum, in order to make a success of this exhibition.
Among some major projects which are going to interest the visitors, a miniature water factory is being built in the old green house of the botanical garden.
By looking at that model, the visitors discover the various steps of production of drinkable water and its convey to the tab. This way, the visitors become concerned with the importance of protecting water as a ressource for both individuals and economy.
By recieving public and scholars, this miniature factory will be attractively complete what is classicaly taught at school, especially, in natural sciences. Thanks to this instalation, GFNG hopes to attract a larger number of visitors to the museum and the botanical garden, this year, but also the next ones.
The Veolia foundation participates to the renovation of the green house. More than the environemental aspect of the project, the construction will also give work, while being built, to three jobless individuals.